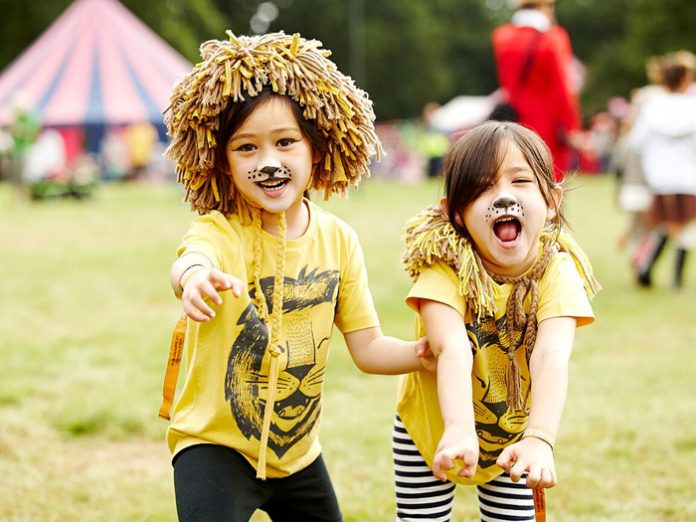 UK: The multi award-winning family arts festival Just So will have a new programme of events centred on food and sustainability in 2017. Now in its 8th year and recently awarded Best Festival by the National Outdoor Events Association, Just So is an annual, intimate, weekend-long festival – one that claims to be the only arts camping festival in the UK dedicated solely to children and their families.
The extensive food offerings will include insect eating and foraging activities, plus the Just So Jelly Fight, Jellybean architecture challenges, Vegetable Skittles, Vegetable Juggling and Vegetable Jenga. Attendees can make and play their very own instruments in a Vegetable Orchestra, and will be able to indulge in the Just So Midnight Feast and The Great Just So Bake Off.
The Just So Binner Party – run in conjunction with the food waste and poverty-tackling Real Junk Food Project – sold out within minutes, and will feature renowned Head Chef Mary-Ellen McTague cooking up a la carte waste food in a 'pay as you feel' restaurant.
To sustain festival-goers' energy levels, over 30 artisan food and drink vendors will be serving food from across the world, with kids' portions and a wide variety of vegetarian and vegan options available. Sustainable seafood from The Fish Bar and The Mussel Pot, Indian street food from Chaat Cart, hot dogs from Piggy Smalls, award-winning ice-cream from Ginger's Comfort Emporium, breakfasts from Mama Muesli, vegan cake from The Cake Doctor, wood-fired pizzas from Streaza and Proper Pizza Co, and Mediterranean street food from Castaway Kitchen will be served in an array of vintage vehicles and other structures. The Rode Hall Tea Rooms will also be open for homemade breakfasts, lunches and cakes made from the organic produce grown on the estate.
Even the smallest foodies are catered for at Just So with a Mad Hatter's Tea Party hosted by the world-renowned, holistic natural health and beauty brand Weleda in the Peekaboo Garden; the Just So baby-feeding boudoir; and high chairs and bottle warming facilities across the festival site. Meanwhile grown up festival-goers can look forward to craft ale, artisan gin, champagne, and botanical bars.
With a love of stories and childhood escapades at its heart, Just So Festival enables families to step out of their day to day lives and into a world of literature, arts, theatre, dance, music, comedy and creative pursuits. Underpinned by the Tribal Tournament, it takes audiences on an expedition encompassing midnight feasts, pillow fights, hidden retreats, quality food & drink, boutique camping options and beautiful surroundings.
Just So is set amidst the woodland clearings, rolling parkland, amphitheatres and lakeside spots of the Rode Hall Estate in Cheshire.
A not-for-profit arts festival, the ticket price includes all entertainment and programming across the festival site, with capacity capped at 5000 to ensure a relaxing and safe environment for all.
Winners of Tourism Experience of the Year, Festival Kidz Gold Award and Inclusive Tourism Award, Just So Festival aims to create memories treasured by families year-round and has a pioneering approach to accessibility, enabling families with all needs and preferences to enjoy and participate together.
Rowan Hoban and Sarah Bird, directors of Wild Rumpus, set up Just So Festival in 2009.
The pair commented: "Thank you to all our incredible audiences who have adventured together at Just So to help us make it one of the best family festivals in the world today. Spending time together as a family, exploring the woods, venturing to the Lake at dawn, singing around the campfire, eating under the stars, dancing like wild things to incredible foot stomping bands and listening to stories that will fill us full of awe and wonder at the magical world around us…what's not to look forward to? We can't wait to share Just So 2017 with you soon."