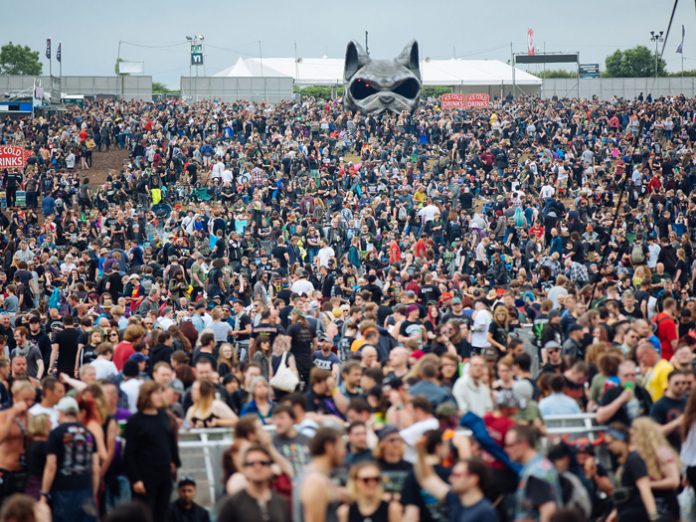 UK: Download Festival has announced major improvement plans for the 2017 festival. New drainage systems, alternative traffic routes, improved disabled access, a 400 strong 'Dog Squad' to aid festival-goers, and a stage relocation are among the new developments put in place to better meet the needs of Download fans.
Festival Republic's Melvin Benn said: "As a festival we're always looking to improve the experience for our customers – it's always at the forefront of any planning we do, so the feedback we received on last year's festival has been invaluable. We introduced the Dog Blog this year which has enabled us to really listen to the Download fans and take on board all suggestions, and in turn implement plans that will see this year's Download be the best yet."
With over 70 million gallons of rain falling across the weekend – the equivalent of 106 Olympic sized swimming pools – ground conditions at last year's festival were naturally waterlogged. This year sees the introduction of a new drainage system which totals over 3,000 metres and quadruples the amount in previous years. An additional 1,115 metres of new ditches have also been added to take water away from site.
Festival Manager John Probyn said: "We've made major changes that will benefit the Download audience not just this year, but for years to come. Whilst rain in any situation will naturally create wetter ground conditions, we've taken measures to ensure our festival-goers see a tangible improvement by increasing the vital drain structures on site to four times what they were in 2016."
Download has reviewed traffic management plans and is working closely with local authorities to produce alternative travel routes following the implications of the unforeseen closure of the M1 in 2016. A new route from the North and three new routes from the South will aim to better control festival traffic, to ease congestion for locals and festival-goers alike, minimalising traffic in the event of a major road closure.
The fastest way to obtain up-to-date traffic information will be via the Download Festival App, and through the Download Festival social media channels. Deployed traffic and car park marshalls will be on-hand to aid fans in traffic advice on the ground.
Ticket holders driving on and off site each day will now park in a relocated car park. Most vehicles will aim to be parked on hard standing ground, allowing for greater ground resilience against wet weather. New trackways will be put in place where needed to allow ease of vehicle movement and to improve conditions underfoot for people walking through the campsite. An increased number of free onsite shuttle buses will also be available for the main campsite customers across the weekend from the West Car Park.
The relocation of the disabled campsite will see improved ground conditions and provide ease of access for disabled customers. The improved location will allow for customers to park nearer to their tents in an area with an increased amount of hard standing ground, and pathways with a better central toilet and shower facility that is easily accessible. Access roads between the car park, campsite and Main Arena will see the maximum solid ground routes available, and customers will have a dedicated arena entrance with access to the internal roadways in the arena.
400 members of a newly appointed 'Dog Squad' will be stationed across the car parks, campsites, village and arena to aid festival-goers with any onsite issues throughout the weekend. This group of festival helpers will become an integral part of the Download customer service team.
24-hour security will remain in operation across the site, and more zone managers will be put in place for each field. These new representatives allocated by the festival will attend daily briefings with site management to ensure the most up-to-date information is provided to fans.
The Avalanche Stage (third stage) is this year being relocated to allow easier access between stages. Located behind NXT Wrestling, the Avalanche Stage will also be a shorter distance from the Main Stage and the Zippo Encore Stage.
The area around the Zippo Encore Stage will also be opened up, allowing for improved crowd movement and flow.
The Quiet Campsite will be positioned further from the East Midlands Airport runway, with the North East corner of the current campsite undergoing development over the next three years to provide a better-withstanding ground.
The Download Festival Dog Blog has been active on the website since the start of the year, allowing customers to email in questions or suggestions. So far over 300 people have emailed with suggestions that have been taken into consideration for this year's festival. The Dog Blog is still active and is available to see here.
Download Festival will takes place on June 9 – 11 at Donington Park, Leicestershire.