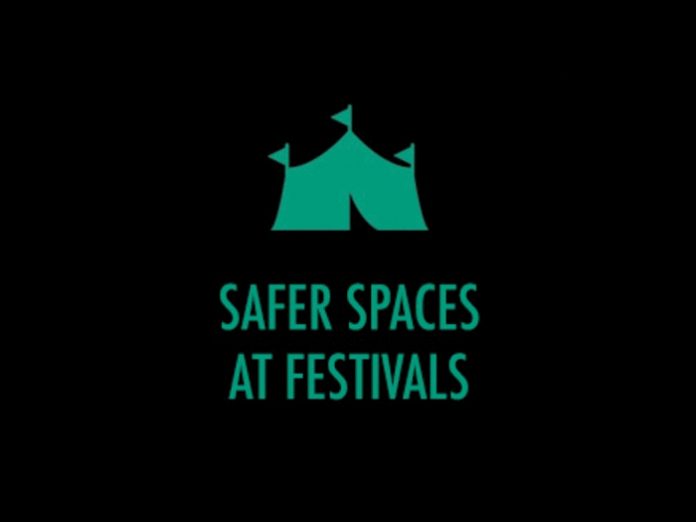 UK: At 9am on Monday May 8, more than 25 UK music festivals, including Bestival, Boomtown Fair, End of the Road, Parklife and Secret Garden Party will 'blackout' their websites for 24 hours as part of a new initiative to promote an increased awareness of sexual assault.
As part of the campaign, the events will also share a short eye-catching animation over social media with the hashtag #saferspacesatfestivals, encouraging festival-goers to play an active role in promoting safety, with three key messages:
Zero Tolerance to Sexual Assault
Hands Off Unless Consent
Don't Be a Bystander
The full list of festivals participating in the blackout are: 2000trees, Always the Sun, Ampthill Festival, ArcTanGent, Belladrum Tartan Heart Festival, Bestival, Bluedot, Boomtown Fair, Electric Fields, End of the Road, Eisteddfod, Festival No. 6, Field Day, The Fling, Hanwell Hootie, Heb Celt Fest, Kendal Calling, Nozstock The Hidden Valley, Pangaea, Parklife, Rewind, Secret Garden Party, Standon Calling, Strawberries & Creem, Tramlines, Truck, The Vicar's Picnic and Y-Not Festival.
Complementing this awareness-raising drive, more than 60 members of the Association of Independent Festivals (AIF) have signed a Charter of Best Practice committing to uphold best practice through a series of measures including:
A zero tolerance policy towards any form of sexual harassment at their events
Provision of confidential welfare services to any victim of sexual assault
Ensuring staff and volunteers are trained to deal with issues relating to sexual violence
Taking a victim-led approach to sexual assault incidents
The campaign, which aims to connect with music fans in the run-up to this summer's festival season, builds upon a number of existing initiatives by AIF members. It has been supported by guidance from experts at Rape Crisis England & Wales, Girls Against, Safe Gigs For Women and the White Ribbon Campaign.
Renae Brown, Campaign Manager at the Association of Independent Festivals, said: "This campaign is building upon the positive measures that are already being taken by our members. We are reiterating that we have a zero tolerance towards any form of sexual harassment or assault at our events. Our members already take very seriously their responsibilities as event organisers, and by taking guidance from Rape Crisis England & Wales, Girls Against, Safe Gigs For Women and the White Ribbon Campaign we are aiming to tackle these issues in both a sensitive and impactful way – pushing awareness of sexual safety to the fore, while ensuring all those working onsite are properly trained, and that UK festivals continue to provide the safest, securest and most enjoyable environment for their customers."
Rebecca Hitchen, Operations Coordinator at Rape Crisis South London, Rape & Sexual Abuse Support Centre said: "We at Rape Crisis welcome this important new campaign from the Association of Independent Festivals (AIF). It's vital that as much as possible is done to ensure festivals can be safe spaces, free from sexual violence. It's really positive to see event organisers commit to training and strategies aimed at preventing sexual assault and rape at festivals, as well as making sure those who do experience these crimes get access to appropriate support. Zero tolerance to sexual violence and encouraging festival-goers not to be bystanders when they witness assaults are strong and crucial messages."
Rob da Bank, co-founder, Bestival and AIF said: "I'm fully behind this campaign, both as a festival promoter and as the co-founder of AIF which represents over 60 of the UK's best independent festivals. All share our concerns and aims for our events to be as safe as possible."
Secret Garden Party Founder Freddie Fellowes said: "It is gratifying to know that a formal policy is being put in place across so many festivals highlighting the availability of support to both the victims and witnesses. It is essential that events come together, with the public, to try and eradicate this totally unacceptable behaviour."
According to Rape Crisis England & Wales, more than half a million adults are sexually assaulted in England and Wales each year. Approximately 85,000 women and 12,000 men are raped. Only 15% of those who experience sexual violence choose to report it to the police.
The Association of Independent Festivals represents more than 60 UK events, attended by over 500,000 people each year. Founded in 2008 by Rob Da Bank (Bestival) and his manager Ben Turner (Graphite Media) the organisation has a long campaigning history, leading on issues ranging from awareness of legal highs to greater accessibility for Deaf and disabled audiences.