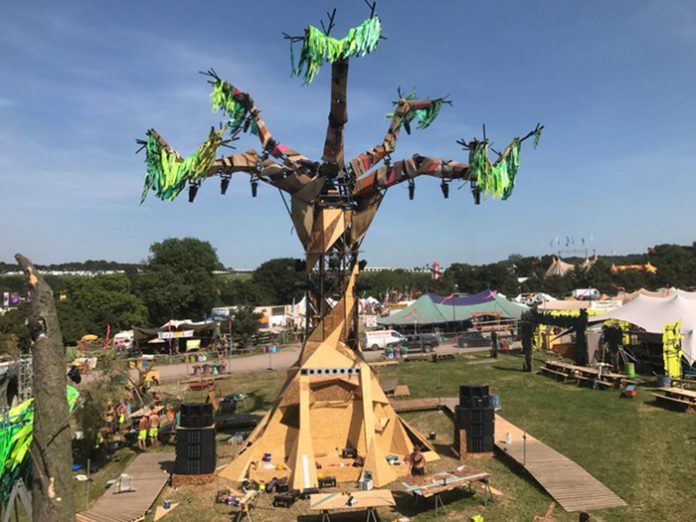 UK: Triple E has supplied a ModTruss centrepiece for the Greenpeace Field at Glastonbury Festival. Commissioned by Factory Settings and designed to highlight the Greenpeace campaign to protect forests, the 20m tree 'comes alive' at night, serving as a hub for exclusive DJ sets and a beacon of the Stand for Forests campaign.
According to the Factory Settings team, the ModTruss structure is simple to put together and they were able to build the tree at Worthy Farm from Triple E drawings, ticking the requisite safety boxes in the process.
Lucy Edelstein, Project Manager at Triple E, commented: "We were delighted the Factory Settings team approached us with their designs. We made a 3D drawing for approval, test built the tree and shipped the parts."
Factory Settings' Director, Lucien Mansell, said: "ModTruss is a unique product ideally suited to a one-off bespoke item like this because it doesn't require custom components.
"Building a 20m tree in a field is a demanding project but it's something ModTruss' versatility and strength is well suited to."
With help from its supporters, the Greenpeace Stand for Forests campaign is stopping illegal timber from Cameroon reaching European ports, barring the expansion of soya plantations into the Amazon, fighting fires in Russia and repeatedly getting in the path of bulldozers. That is the vision of hope and direct action that the Greenpeace Field will represent this year at Glastonbury Festival.