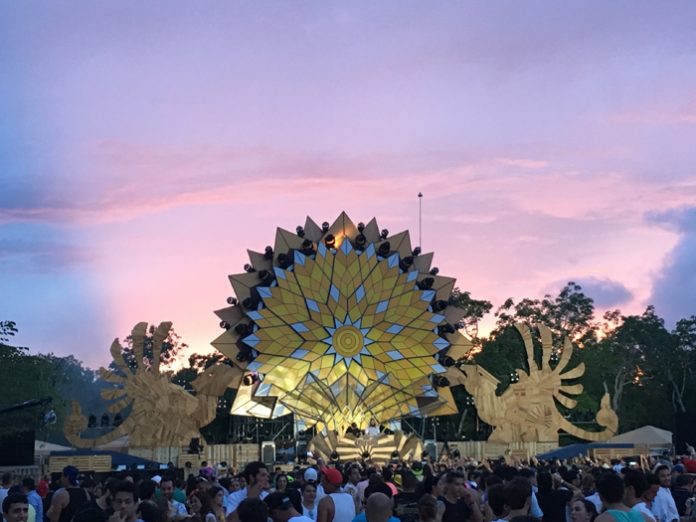 MEXICO: Corona Sunsets returned to Tulum, Mexico on June 17 for a daylong programme of electronic dance music in idyllic surroundings. The festival saw the country's first outing for Vero – Funktion-One's vertically arrayable loudspeaker system.
Sound for the event was supplied and managed by Loto Audio – Funktion-One's distributor for Mexico. Funktion-One founder, John Newsham, flew out to help with set-up for Corona Sunsets and to provide Vero training for the Loto Audio team.
Loto Audio has placed an order for its own Vero system, which will be delivered in July. For Corona Sunsets, the Vero system was shipped from the US.
The event organiser was keen to keep the visual impact of the system to a minimum, which led to a stipulation that it should be stacked rather than flown, which offered the sound crew a challenge.
Newsham worked with Ramon Salazar, Joe Sandoval and the rest of the Loto Audio team to find a solution. "The critical factor was to get the ground stack platforms at just the right height" he said. "If you go too high, you can't get coverage in the nearfield. Too low and the nearfield is loud but the far field suffers. There's also a limit to how many boxes you can safely stack. We built the system using our Projection software to optimise the heights and angles and once the platforms were rearranged to the right height it worked out very well. When the system is flown it's certainly easier but everyone was very happy with the result."
The system comprised two elevated stacks of just two Vero V60, 60-degree, mid-high speakers on top of two Vero V90, 90-degree, mid-high speakers. Three Vero V315 mid-bass speakers were stacked on a dolly below and alongside the main stacks with six V221 bass enclosures per side on the ground between the mid-high stacks. Power for the system came from the recommended and supplied Lab.gruppen PLM20K44 amplifiers.
Loto Audio also provided two Resolution 4 loudspeakers and two BR221 bass reflex speakers for the far end of the VIP bar area.
Sets from Don Diablo, Thomas Jack, Tensnake, Goldroom, Tom & Collins, and RAC kept the 5,000 attendees entertained into the evening. FOH was pushed to the furthest away point, again because of a desire for the technical elements to remain as covert as possible.
Newsham said: "My favourite comment of the day was that the sound was 'huge'. We had a system that you could hardly see, yet the sound reached out to the back of the venue – where we were positioned at FOH. That in itself turned out to be a good move. The vibe was really nice and I think that was helped by the fact there wasn't an FOH island in the middle of the audience."