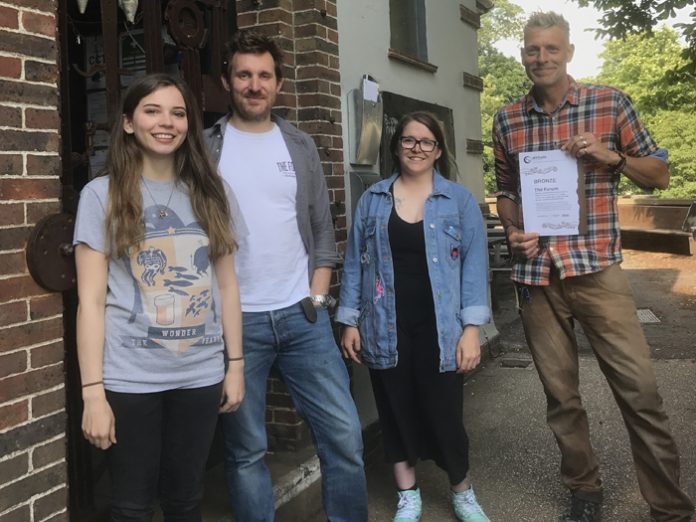 UK: Attitude is Everything, the UK's leading authority on live music accessibility for deaf and disabled people, has revealed a new Grassroots Venue Charter of Best Practice. This new Charter is part of the charity's Breaking The Sound Barriers programme, funded by the Paul Hamlyn Foundation.
The initiative is targeted specifically at small and independent music UK venues with the aim of implementing low or zero-cost access solutions that will help boost the growing audience of deaf and disabled music fans who wish to support their local venues and catch emerging artists close to home.
It is also designed to complement Attitude is Everything's existing Charter of Best Practice, which has proved hugely successful in allowing the charity to develop deep-rooted partnerships with event organisers across the UK. Now awarded to over 130 UK venues and festivals, the Charter has helped revolutionise the provision of access facilities and greatly increase the volume of disabled audiences attending live events*.
In a departure from the main Charter, the Grassroots Charter will allow venues without a disabled toilet to sign up. Those without a disabled toilet can still make efforts to welcome customers by liaising with local business to agree use of their facilities and signpost these for gig-goers.
Acknowledging the tough economic conditions that most small venues operate under**, the emphasis is on flexibility and creativity – but without compromising on the underlying goal of ensuring that these vital music hubs and inclusive and accessible to everyone in a local community.
Bronze-entry level targets that Attitude is Everything will support venues to achieve include:
Access information posted to the venue's website that is signed-off via Attitude is Everything's Access Starts Online initiative
Basic access information provided in tech specs for promoters and bands
Free of charge tickets for personal assistants (via use of guest-list allocations or in partnership with promoters)
Headed up by Natalie South, Attitude is Everything's new Grassroots Project Manager, the Charter's targets and accompanying guidance is designed to encourage venue organisers through a wide range of topics, and ultimately enable the achievement of Bronze, Silver and Gold awards.
Explaining the importance of the Charter, Suzanne Bull MBE, CEO Attitude is Everything, said: "I'm delighted that Paul Hamlyn Foundation have enabled us to further support grassroots music venues which are the lifeblood of the live music industry. Many artists cut their teeth and hone their performances in local venues all across the UK, and to be able to open these venues up to disabled artists and audiences is really exciting. 'Breaking the Sound Barriers' means that we can fulfil a long-held desire to work closely in partnership with Music Venues Trust, an organisation that we hold in great esteem because of their work to support small music venues to thrive in the UK."
To ensure its rollout gets off to a flying start, Attitude is Everything has also announced that the Grassroots Charter launches with official backing of the Music Venue Trust, and that MVT member Tunbridge Wells Forum is the first grassroots venue to be awarded a Bronze level certificate.
Having already updated its online access information, the award-winning venue – that has played host to artists including Adele, Biffy Clyro, Green Day, Oasis and Coldplay – is now in the process of retro-fitting an accessible toilet and has recently made adjustments to external access routes to enable level access both into the performance space and into the backstage area.
Frank Turner, who played Tunbridge Wells Forum in 2013 as part of the venue's 20th anniversary celebrations, said: "Small and independent music venues are very close to my heart, and they're the lifeblood of any music scene. That scene should be accessible to all people who want to come. It's wonderful to see Attitude Is Everything bringing these ideas together and working to make sure that everyone is able to enjoy live music at all levels."
Richard Simm, co-owner of Tunbridge Wells Forum, said: "The Forum's honoured to have been the first venue to be accredited under this scheme. Attitude is Everything's advice has been invaluable in improving access by better understanding the needs of deaf and disabled patrons. Live music, enjoyed up close as only a small venue can provide is a beautiful thing, and should be available to all – so we wish Natalie and team all the best in rolling this out to other venues across the country."
Beverley Whitrick, Strategic Director at the Music Venue Trust, said: "We are very pleased to have worked alongside Attitude is Everything over the last few years to enable a really positive Charter to come forward. It creates a process which supports grassroots music venues to understand and start to address the need for access. The Charter contains specific, achievable actions which these venues can take and be recognised for. We hope many more venues will be able to take positive steps in this area, supported by the bespoke approach Attitude is Everything is able to bring to this process."
Moira Sinclair, Chief Executive of the Paul Hamlyn Foundation, said: "At the Paul Hamlyn Foundation, we believe that everybody should be able to enjoy fulfilling and creative lives, and we see access to arts and cultural as an important element in achieving that mission. Attitude is Everything has led the charge over many years in challenging all of us to rethink our approaches and in providing practical steps to address accessible provision, so we have been delighted to support this latest piece of work. Signing up to the Charter is a tremendous sign of commitment from grassroots music venues to become more accessible to music fans who are deaf and disabled, which we believe will benefit venues, artists and audiences alike."
To find out more about the new Charter, contact Natalie South.
*Ticket sales to disabled fans at Charter festivals and venues increased by 21% in 2016 – well in excess of Attitude is Everything's own targets, and with an estimated economic impact of almost £8m.
**According to the Music Venue Trust, between 2007 and 2015, 35% of grassroots music venues in the UK closed down.