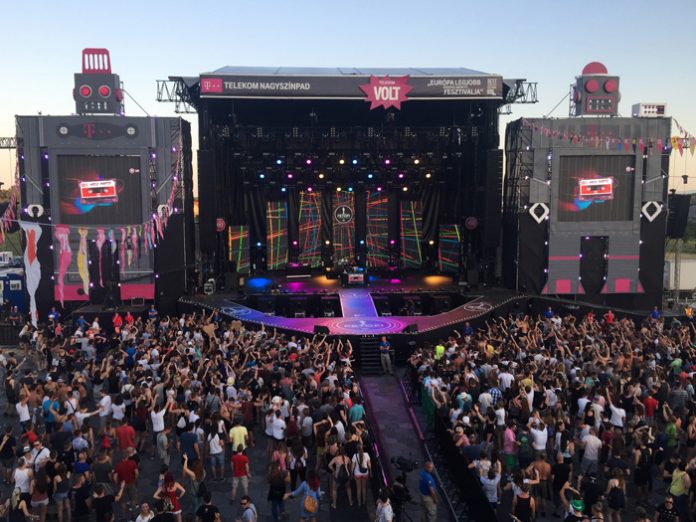 HUNGARY: The Volt and Balaton Sound festivals are part of a series of major festivals in Hungary, held over the summer. Both have been serviced for a number of years by Capital Sound, and all continue to feature Martin Audio's premium loudspeaker systems on main stages.
Volt Festival is a massive multi-genre event set in Sopron over five days, with over 100,000 music lovers attending the celebrations year on year. Known for attracting diverse and talented headliners over 25 years, its huge popularity has resulted in a massive European following. This year saw Linkin Park, Martin Garrix, Imagine Dragons, Ellie Goulding, Jesse Glynne, The Cult, Years and Years, Pendulum and Paramore appearing over the five days.
Balaton Sound, on the other hand, takes place on the shores of Lake Balaton, the largest in Central Europe, creating a beach party vibe 200 miles from the sea. Now over 10 years old, the festival has consistently offered its enormous fan base the chance to see some of the biggest and best names in dance music — and this year those names included Armin Van Buuren, Hardwell, KSHMR, Tiesto and The Bloody Beetroots.
Capital sent experienced Crew Chief Kevin Smith to supervise both events, along with System Tech Luke Murphy, ensuring that both events went off smoothly. They, in turn, were supported by Marci Mezei, Hungarian Audio Crew Chief, who had a huge influence on system set up.
At Volt Festival, the main PA consisted of an MLA PA (18 per side, including an MLD Downfill), with 36 MLX subwoofers in a cardioid broadside setup. Outhangs consisted of eight MLA, stage left, and five MLA, stage right. Delays comprised two masts, each with six Martin Audio W8LC line arrays, with a further 12 W8LC as front fills.
As for Balaton Sound, the PA design consisted of 15 MLA and a single MLD per side, with 36 MLX subwoofers, eight MLA per side as outfills and six W8LC line array elements per side. Frontfills were again composed of 12 W8LC cabinets.
For the most part Capital followed a proven formula, although at Balaton this year they changed the arcing on the subs to obtain more punch at FOH. According to Luke Murphy: "There are no sound restrictions, and so everyone was looking to redline it there. The MLX subs can really handle a lot of power, and everyone was impressed with how far they could push it. Linkin Park's engineer was running at 106dB and there was still available room to turn it up."
As a result Murphy was once again able to report a major triumph for the sound system: "MLA displayed a lot of bite in the high mids, and tonally it produced a really tight sound at both festivals."