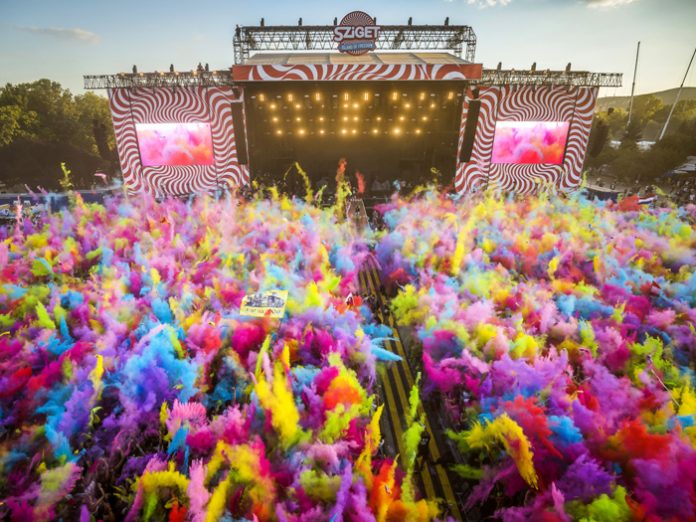 HUNGARY: Martin Audio PA systems were once again all over the massive seven-day Sziget Festival in Hungary — the final leg of a three-event tour of the country, which included Volt and Balaton Festivals.
Capital supplied two trucks of equipment, including the bulk of the MLA, MLD, MLX and MLA Compact enclosures, while Martin Audio's Polish partners, Musnicki, provided the remainder of Martin Audio's flagship PA for the 25th edition of the event. Featuring daily crowds of 90,000, the event is dubbed the Island of Freedom due to its picturesque location on the Danube.
In addition to main stage, Martin Audio premier PA systems once again featured on the Colosseum and Europe stages, courtesy of the manufacturer's Hungarian partner, BG Event.
Capital Sound have worked the event almost continuously for 12 years and MLA has featured for the past three. Cap's Operations and Development Director, Paul Timmins, said that the recent creation of a state-of-the-art loading dock backstage, impacting on the coverage area, required different optimisations to be programmed into the proprietary DISPLAY software.
"We tweak the system year on year as there's always improvements that can be made," he said. "The beauty of Sziget is that they always want to provide the best when it comes to sound systems."
Thus Capital made minor modifications to the tried and tested formula. This largely affected the MLX subwoofer design, with 48 MLX arranged this time in a spaced cardioid array, comprising 16 evenly spaced stacks of three enclosures. This provided LF extension to a system that comprised two 17-element MLA drops and an MLD Downfill at the base.
There were two side hangs of nine MLA and an MLD Downfill, while 16 W8LC Compact Line Array elements were spaced either along the front of the stage and on top of the subs to boost nearfield coverage.
Capital again fielded four MLA delays in different MLA / MLX combinations, 80m back from the stage. They also provided two MLA Compact hangs alongside the relay screens behind the main FOH tower, with four WS218X subs operating in an end-fire configuration further warming up the sound for the audience at the rear of the site.
The PA optimisations were carefully set to avoid sound spillage to the numerous other stages. "The second stage is massive and runs all night, which is why the sub design was so important," Timmins emphasised.
The pedigree of Capital's crew matched that of the PA, with Kevin Smith as crew boss, Toby Donovan system teching and Marty Beath assistant PA tech, assisted by Hungarian technical crew, headed by Marco Mezi.
This provided the perfect soundscape for an all-star line-up, including Kasabian, Pink, alt-J, Tim Odell, and many more.
"MLA has now become highly respected for its capabilities at outdoor festivals," said Timmins. "The Sziget organisation was happy with the technical production and most visiting sound engineers by now are familiar with MLA, and everyone knows that if Capital is providing the PA then they will have a good show."
He added that having BG Event on-site was a further benefit: "Because they are local, if we suddenly find we need extra kit they will be able to find it."
Meanwhile, BG Event equipped the Colosseum stage with 22 x MLA Compact cabinets, eight WS218X subwoofers and two XD12 cabinets for infill. As this was mainly a DJ domain they also provided four Martin Audio LE1500 and a pair of WS218X enclosures for DJ monitoring.
Over on the Europe stage they fielded a Martin Audio W8L Longbow system, deploying 10 cabinets and eight W8LS subwoofers. Onstage were eight Martin Audio LE2100 floor wedges, with a WS18X and LE1500 for drum monitoring.
And for Capital Sound, it was a case of drawing on 12 years' experience at this site. Summing up the event overall, Paul Timmins declared that "once again the event was a complete success."