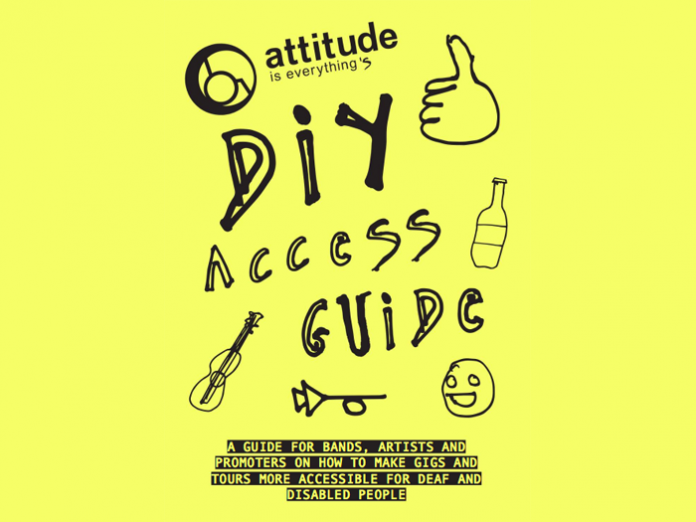 UK: Attitude is Everything, the UK's leading authority on live music accessibility for deaf and disabled people, has published a new DIY Access guide – presenting a series of cheap and simple tips to make gigs and shows more inclusive, and help artists and promoters maximise their audiences.
The aim is to make performances as accessible as possible, even if a stage is up or down a flight of stairs, with the guide providing advice on:
How to set up an accessible seated viewing area
How to make your own DIY captions for lyrics
Information to include on online event pages
How to make an accessible flyer
What you can do with shows at an inaccessible venue
The zine style publication was launched at Manchester's Off The Record conference, during a panel discussion entitled 'Break Down Barriers, We Will Come'.
The panel featured Attitude is Everything CEO, Suzanne Bull MBE; music blogger Hannah McKearnen; Revenge of Calculon's Rob Maddison; and Richard Phoenix from the band Sauna Youth and Constant Flux – a community interest group who promote punk shows by learning disabled musicians.
The guide can be downloaded for free here, with print copies available.
Ahead of publication, Suzanne Bull MBE said: "Attitude is Everything has ambitions to make all live music events as inclusive as possible – and particularly those promoted at small grassroots venues. Even what appear relatively minor changes can make a big difference in practice.
"That's the reason we've put together this easy-to-use guide. Nobody should cut off from their local music scene – whether that's the millions of disabled people who want to attend gigs and shows, or deaf and disabled artists who are looking to perform. By following our simple advice, promoters and artists can help make live music so much more accessible, and attract a whole new audience into the bargain."
Rob Maddison said: "This guide has all the vital information needed to engage with disabled audiences and artists, making it a must-read for all bands and promoters."
Hannah McKearnan added: "Most places do not intentionally shut us out, they're just lacking the right tools and knowledge. It's so important for bands and promoters to be aware of the access barriers that their fans face, so they can work with venues to solve them."
The guide, made possible by PRS Foundation and Arts Council England funding, draws upon Attitude is Everything's 17 years' experience of putting on inclusive gigs – most recently at DIY Space for London as part of the In-Sight Weekend. This gig was part of a series of events created in collaboration with Constant Flux that featured talks by disabled artists, as well as workshops on improved accessibility.
Earlier this year, Attitude is Everything launched a new programme called Breaking The Sound Barriers with backing from the Paul Hamlyn Foundation. Focussed on improving access at small venues, this led to the launch in August 2017 of a new Grassroots Venue Charter of Best Practice.