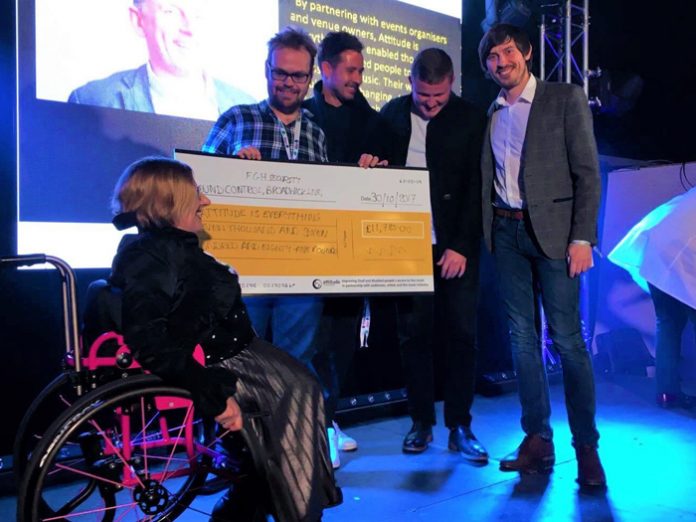 UK: This week's Festival Congress, AIF's annual flagship event for independent festival promoters, saw team members from Ground Control, Broadwick Live and FGH Security present a cheque of £11,700 to Attitude is Everything CEO Suzanne Bull MBE, following the completion of a 140-mile fundraising charity cycle ride.
The Coast to Coast challenge was undertaken in September this year by a 16-person team, consisting of employees from Ground Control, Broadwick Live, FGH Security and Attitude is Everything. The entire team completed the iconic coast to coast route, travelling more than 140 miles from Whitehaven to Tynemouth and climbing more than 1500 feet over sea level.
The team received more than 250 donations, all of which will supplement Attitude is Everything's work to make live music more accessible for deaf and disabled audiences.
Speaking after the presentation, Suzanne Bull MBE said: "As a charity, Attitude is Everything relies upon fundraising and donations, and we are hugely grateful to Ground Control, Broadwick Live and FGH Security for their support. What an amazing effort! It was extra special to receive this donation at the AIF's Festival Congress, and I would like to say thank you to Paul Reed and team for enabling that to happen."
Jon Drape, MD of Ground Control and Attitude is Everything patron, said: "By partnering with events organisers and venue owners, Attitude is Everything have enabled thousands of deaf and disabled people to enjoy access to live music. Their work is genuinely life changing. As a patron of the charity, I was absolutely delighted to accept the Coast To Coast challenge and hope others in the live music business will be inspired to work with Suzanne and her team."
Alex Bennett, Director of Festivals at Broadwick Live said: "It's been a pleasure for Broadwick Live to become involved in such a great charity. Attitude is Everything aim to enable as many people who are deaf and disabled to enjoy live music and festivals. We look forward to aligning ourselves and our events with the charity in the future, and helping to bring further success and access."
Anyone wishing to make a post-ride donation can do so here.