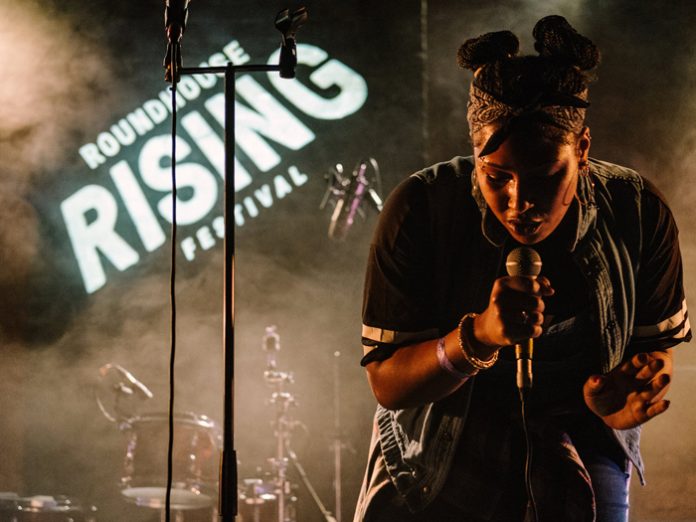 Rachel Santa Cruz is a third year Marketing and PR student from Miami who has been living in London for three years. She first got involved with the Roundhouse in 2016 when she participated in its Youth Bloggers course and ended up contributing two pieces to the Roundhouse's 50th anniversary microsite.
For the past four months I have been part of a team of 12 young producers aged 18 – 25 based at the Roundhouse in Camden. Our project? To curate a daylong event as part of Roundhouse Rising 2018, the Roundhouse's annual festival of emerging music.
The Roundhouse Rising Young Producers project was open to 18 – 25 year olds with an interest in marketing, creative programming, technical production, and project management. Recruited in October 2017, we were tasked with responding to a real festival brief to deliver the marketing campaign, production, and programming for our daylong event.
Alongside regular planning sessions, we were introduced to various roles in the festival industry with talks from leading industry experts. Speakers included festival organisers from Lewisham People's Day, Continental Drifts, Attitude is Everything and the Roundhouse.
The Roundhouse has given us unfettered access to the festival industry and all of the tools we need to put on a festival in the heart of Camden. The most valuable part of the experience has been the freedom to share ideas and turn them into a reality. We've learned how to curate an event from scratch, and to make our own mistakes and learn from them – always with guidance from the Roundhouse team to help us on our way.
I spoke to Laura Mason, one of the young producers in my team about how she has found the project: "As an aspiring arts producer, this has been an incredible opportunity to gain some essential experience that I was struggling to achieve on my own," she said. "Roundhouse Rising is aimed at young audiences and showcases fresh, emerging artists so it makes sense that the people behind-the-scenes working to put the event on should also be."
Early in the creation process we established that the key themes of our event were to be community and togetherness, hence the name 'Round Our Place' was born.
Emilia Hartwell, a young producer on our creative programming team, said: "Round Our Place is all about a sense of community and connection, but we want to think about people who feel displaced by society too. We are welcoming representatives from Tonic Music for Mental Health, a Music Therapy Charity; Shelter from the Storm, the Museum of Homelessness; and The Trussell Trust to come and speak in panel discussions about homelessness and ways to combat mental health issues through music therapy. At Round Our Place we would like to help everyone feel a little more at home."
The wider Roundhouse Rising Festival places emphasis on showcasing fresh, emerging talent. By utilising our existing contacts and knowledge of London's music scene, and publishing call-outs online, we responded to this by booking an eclectic group of incredible artists. Phoebe Hutchings, another young producer on our creative programming team, described this to me: "We have programmed a mix of genres that will cater to multiple musical tastes. There will be smooth, beautiful sounds of soul, energetic hip-hop mashups and room-silencing acoustic solos. We are looking forward to shining a spotlight on artists who are rapidly growing in popularity and driving their genres forward."
The toughest part of this process has been balancing our creative ideas with the practicalities of time and budget. Continuing with the community theme, we wanted to transform the Roundhouse studios and Sackler space into a mini-neighbourhood, incorporating an indoor park, library, living-room and house party space. With only a modest budget available, we have decided to hint at these locations, having a few key props in each room and using light and sound technology to 'fill in the gaps'.
"Our challenge was to create a community space with no artificial barriers, cleverly blending the lines between stage and crowd," said Vicky Pearce, a young producer on our visual design team. "The audience are invited to travel Round Our Place, a labyrinth of rooms, where installations and visuals provide an almost theatrical background and a unique and inclusive atmosphere."
From creative guidance to practical experience, being part of the Roundhouse Rising Young Producers project has given us the opportunity to produce a festival created for, and curated by, young people.
Our event, Round Our Place, will take place at the Roundhouse on Saturday March 3 2018, with a day session from 1:30 – 6:30 and evening session from 7:30pm – 10:30. Artists in the day include Aneesa' Marie, Iyamah, Jerome Thomas, Hannah Rodriguez, Slam the Poet, Joshua Cialis, Passenger Casanova and Nuuxs. Evening artists include Cykada, The Dylema Collective, and Boadi and the Banku Powers. Audience members can buy individual tickets for day or evening sessions, or an all-day ticket.
Roundhouse Rising Festival 2018 is supported by YouTube.