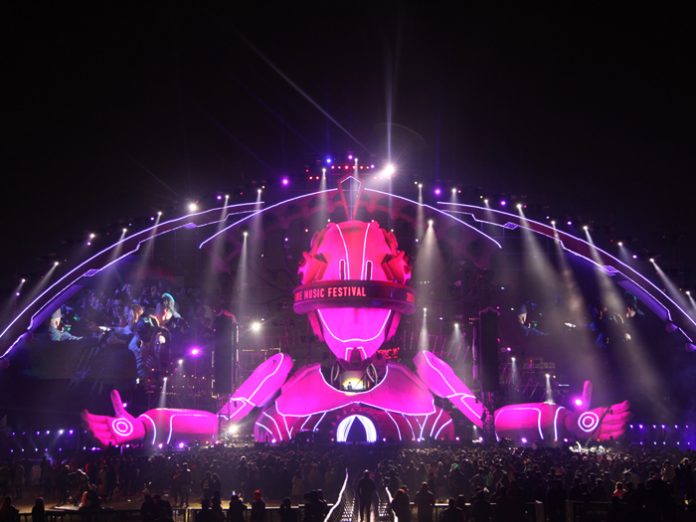 CHINA: The Mr. Future Music Festival brought nearly 40,000 fans to Wuhan, China to enjoy an array of hip-hop and electronic artists last November. Sharing the massive stage with acts like MC Hotdog, known as the 'godfather' of Chinese hip-hop, Dutch DJ R3hab, and Canadian EDM duo DVBBS, were over 100 Adamson loudspeakers supplied and supported by the company's exclusive Chinese distributor, Real Music.
Tickets for Mr. Future sold out almost immediately, meaning the stakes were high in delivering a memorable experience for the hyped-up crowd that filled the venue to capacity.
"Mr. Future is a very unique and innovative event that brings people from all kinds of different circles together," said Real Music owner Zhen 'Richie' Wang. "Of course, music is the central component, and Club Muse, the organiser, chose an Adamson system to ensure every single ticket-holder had a powerful and exciting experience that exceeded their expectations."
The substantial system included main reinforcement from arrays of 15 Adamson E15 three-way, true line source enclosures per side. Because the unique stage design didn't include hanging points, two speaker towers were custom-designed to suspend the arrays. Adamson's compact S10 two-way, full range cabinets were deployed as both side fills, in arrays of 12 enclosures per side, and front fills, lining the lip of the stage.
For low end, 16 Adamson E219 subwoofers per side were flown behind the main arrays with an additional 18 E219s and 12 T21s groundstacked for additional support.
"The system sounded absolutely explosive," said Mr. ShaoHua, the lead sound engineer for the Mr. Future festival. "Hip-hop and EDM are very bass-heavy, and the Adamson system delivers clear, powerful low end like no other. We used Adamson's Blueprint AV software for the precise calculations of coverage, directivity, and SPL distribution across the stadium. We just loaded the presets and settings into the amplifiers and the sound throughout the stadium was consistent from the front to the back of the crowd, meaning every single person had the same high-impact experience."
Founded in 2009, the Real Music Acoustic & Lighting Technology Co. has established offices in Beijing, Guangzhou, Shanghai and Xian City. The company is Adamson's exclusive distributor for China, Hong Kong, and Macau and represents a large catalog of other pro audio, lighting, and music brands.
"We're very proud of the way Adamson has grown in the Chinese market," concluded Wang. "Its use at major events like Mr. Future has only generated more confidence and interest in the brand from our pro audio community, and we look forward to supplying and supporting an expanding number of clients in 2018 and beyond."