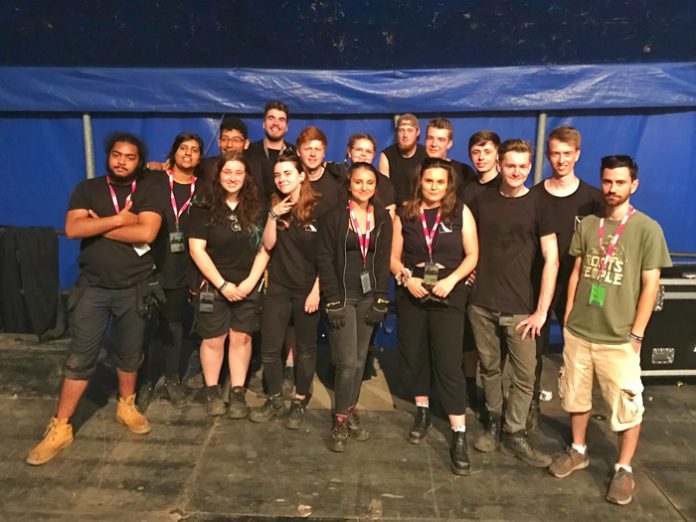 UK: Production Park, a unique cluster of live event based companies in Wakefield, has announced that it will fund university places at its industry leading training centre, Backstage Academy, making an initial pledge of £20,000 per academic year.
The Backstage Academy Bursary Fund will provide a fully funded three-year place on one of the Academy's BA courses to an outstanding candidate for whom university would not otherwise have been an option. Funds will also be available for part-funded places and support for accommodation costs.
In addition, a percentage of the fund will be allocated to provide assisted places on Backstage Academy's outreach programmes, delivered in local communities to educate and inspire those currently disengaged with traditional education, or in need of rehabilitation into a workplace environment.
Production Park says the investment is just the beginning of its long-term social mobility strategy designed to support disadvantaged people with education and help them to pursue a career in the live events industry.
Alongside study, successful Bursary applicants will take part in a work placement and mentoring scheme, incorporating all Production Park's companies: Brilliant Stages, Litestructures, Perry Scenic, LS-Live and Cato Music. Students will gain essential skills in set design and build, scenic décor, sound, lighting and visuals, alongside an array of industry recognised accreditations.
Production Park co-founder, Lee Brooks, said: "We feel a collective responsibility to reach underprivileged people in society who may not otherwise consider higher education. We want to provide them with the inspiration and financial support they need to pursue a career in our industry.
"Working towards the shared goal of delivering a live event is great for building teamwork, resilience and problem-solving, all essential life-skills that could enable many young people to have brighter futures across the variety of careers on offer."
Glen Rowe, MD of Backstage Academy, commented: "We are thrilled to receive the backing of Production Park to fund degree course places and are excited about the prospect of making a real difference to the lives of young people who perhaps wouldn't have considered higher education."
He added: "We offer a very supportive environment at Backstage Academy and recognise people's differing abilities and needs."
Production Park says it aims to set a precedent with its commitment and invites other industry businesses to get involved in supporting the next generation. Companies can contact Sara Gleadhall to discuss financial investment, mentoring, work placements or other ways of getting involved.