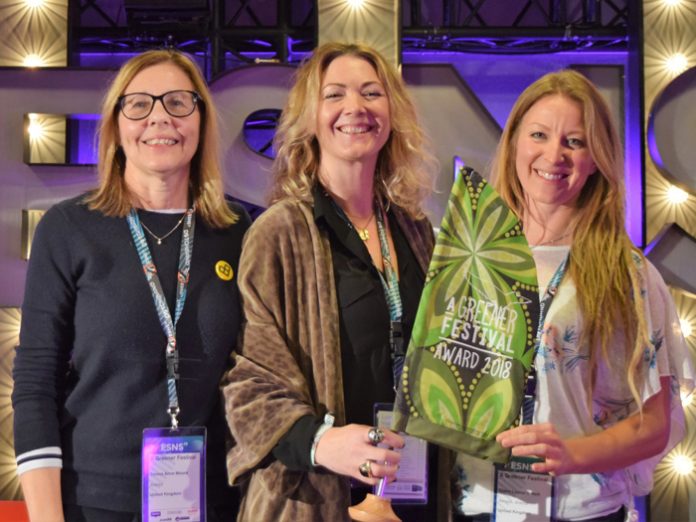 NETHERLANDS: International not-for-profit organisation A Greener Festival (AGF) has announced the 35 recipients of its eponymous Awards for 2018.
Festivals and events from 14 countries achieved the prestigious accolade in 2018, which is awarded to those events and festivals that have demonstrated conscientiousness with regards to sustainability and a reduction in environmental impacts in 11 areas including transport, waste, power, water, and the local area. Applicants undergo a rigorous assessment, site visit and post-event analysis of their event's sustainability actions.
The awards ceremony was held at Eurosonic Noorderslag, Netherlands on January 18 2019. AGF Directors Ben Challis, Claire O'Neill and Teresa Moore presented awards to the worthy recipients that included Das Fest (Germany), DGTL Amsterdam (Netherlands), Pohoda Festival (Slovakia), and Body & Soul (Ireland).
Xander Kotvis, Revolution Manager of DGTL Festival Amsterdam, one of seven events to receive an Outstanding Award, commented: "The Outstanding Award is a crown on many years of hard work. With this prize, we demonstrate that it is possible to implement circular systems without having to compromise on quality or experience. We believe that this is the best way to introduce the world to a new economic paradigm, in which we distance ourselves from our current linear (take-make-waste) behaviour."
Boomtown Fair applied for the award assessment and feedback for the first time in 2018. The event's Sustainability Manager Emily Ford, said: "We are delighted that we obtained the Commended Award from AGF. That highlights the positive action we are taking. It's a great start to our mission to ensure that we significantly reduce the environmental impact of the event, as well as raise awareness on just how vital it is that we all pull together to protect the planet for future generations."
Claire O'Neill, A Greener Festival Co-Founder, commented: "This year has seen unprecedented action and an awareness of the urgency to make our industries and our lives more harmonious with nature. The festivals and events that we have had the honour to assess and award are helping to shape this transition, which has positive repercussions not only within the events' operations but also through the message and example they put out into the world."
The awards themselves are made entirely of reused materials that include salvaged tents by I Dress Myself and reclaimed wood turned by Steve O'Neill.
The next batch of winners, which will include events that take place in the Southern Hemisphere, along with winter events in the Northern Hemisphere, will be announced at the annual Green Events & Innovations Conference – taking place on March 6, alongside the International Live Music Conference (ILMC).
The Green Events & Innovations Conference (GEI) is where festivals and events that participate in the awards come together with individuals whose energy and expertise help increase awareness of sustainability within the music and event industry, sharing best practices and tackling common challenges. The Green Events & Innovations Conference takes place in London on March 5.
Applications are now open for the Greener Festival Awards 2019. Events should contact hello@agreenerfestival.com to apply.
The winners of The Greener Festival Awards 2018 are as follows:
OUTSTANDING
Boom Festival (PT)
Cambridge Folk Festival (UK)
DGTL Festival (NL)
Green Gathering (UK)
Øya Festival (NO)
We Love Green (FR)
Wood Festival (UK)
HIGHLY COMMENDED
Body & Soul (IE)
Dubcamp Festival (FR)
Greenbelt Festival (UK)
Paradise City (BE)
Rainbow Serpent (AU)
Roskilde Festival (DK)
COMMENDED
Boomtown Fair (UK)
Das Fest (DE)
Fire In The Mountain (UK)
Hadra Trance Festival (FR)
Kew the Music (UK)
Mandala Festival (NL)
Metal Days (SI)
Pete the Monkey (FR)
Pohoda Festival (SK)
Primavera Sound (ES)
Spring Utrecht (NL)
Wonderfeel (NL)
IMPROVERS
BST Hyde Park (UK)
Couvre Feu (FR)
De Poupet (FR)
ILMC (UK)
Les Escales (FR)
Manchester Pride (UK)
Own Spirit Festival (ES)
Terraforma Festival (IT)
Utrechtse Introductie Tijd (UIT) (NL)
Uitfeest (NL)