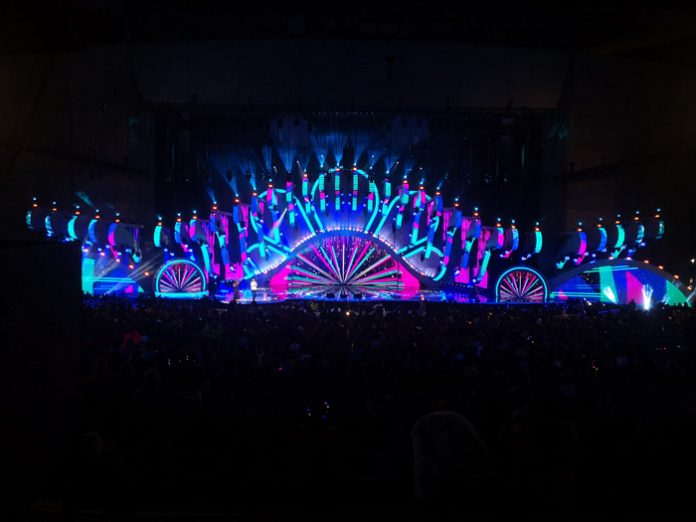 CHILE: Considered 'the largest Latin event in the world', the Viña del Mar International Song Festival has been held annually during the third week of February in Viña del Mar, Chile. Started in 1960, it is the oldest and largest music festival in Latin America.
This year the five-day musical event featured both local and international artists including Felipe Abello, Wisin & Yandel, Becky G, Marc Anthony and Backstreet Boys. With more than 15,000 local spectators, the event has been broadcast live internationally on radio over the years, as well as on Chilean television.
A total of six semi-circular LED screens, made up of Absen Polaris 3.9 and Absen D4V Outdoor, were assembled upstage to play video content, images and livestream the performance. A number of LED strips rigged in the air and stage set further enhanced the show. At the rear of seating area, three Absen D4V LED boards were mounted to play key show messages and sponsorship information.
Absen's Polaris series is touted as a leading rental solution that is perfect for both indoor and outdoor applications. The multi-award-winning product is packed with High Brightness Black (HBB) and Common Cathode technologies, allowing for more brightness output with total stability and reliability.
"Absen's DV series was one of the most successful rental ranges in Absen's portfolio and now our PL series has already proven popular with our customers," said Sara Shen, Absen sales director in charge of Chilean market. "The Polaris series features a number of advantages including ultra-high brightness and contrast levels, ultra-wide viewing angles, as well as mechanical advances like auto-lock, auto-eject and fast-switch curve. All of those make it a reliable product that is easy to rig and flexible enough to cope with the hugely varied range of events."