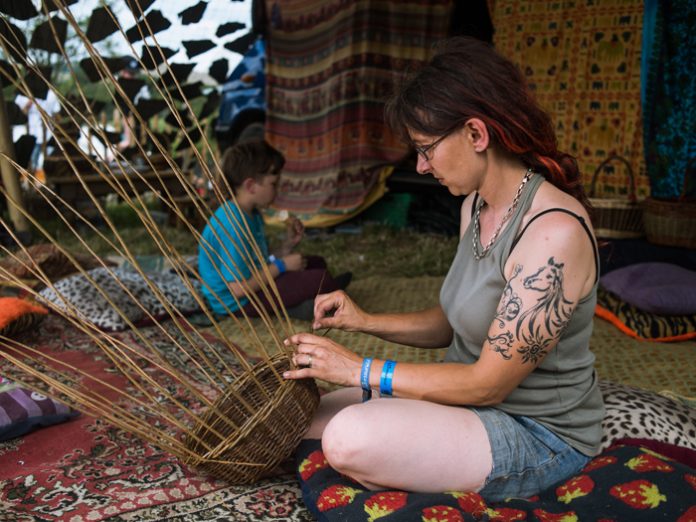 UK: The forthcoming edition of Nozstock: The Hidden Valley – set to take place from July 18 – 21 – will for the first time have a Craft Area dedicated to sustainability. Replete with eco-friendly activities, this new addition to the renowned family festival will also welcome civil disobedients Extinction Rebellion to lead daily workshops on nonviolent direct action.
Nozstock's Craft Area will include:
Workshops and demonstrations
Stitch and Bitch – learning to upcycle clothes, crochet or knit with Jessie and Jess
Repair a Sharper Future – traditional tinkering, fixing and sharpening
The Slippery Slope Stage, powered by the sun
Blacksmiths – making a life size Tin Man
Gardening advice and magic seed workshops with Sam
Mosaic tiles by Liz Hatter
Cornerwood Green wood workshops
Mushroom Paul's fungal fun
Willow weaving with Bonnie
Japanese bookbinding workshops
Tile-painting with Janie
Masquerade maskmasking using recycled materials
Pedal-powered smoothie and energy cocktail bar
Bands at the Craft Area performing across the weekend include Vaginapocalypse, Stoned Cherries, Slippery Slope, Viv and Huw, Knellor Family band, and Kidjam. Entertainment comes from Wye Circus.
These new activities support Nozstock's existing green schemes, that include: a clean campsite competition to incentivise campers to stay litter free; the 'drastic on plastic' campaign to reduce usage of single-use plastics; 'love your tent', reminding visitors to keep their tents and take them home; and tree-planting fun with an eco-friendly act on 'Celebritree Avenue.'
During the weekend, Herefordshire Green Network are leading sustainability workshops, while letter artist Richie + co will be producing a mural for guests to add their pledges towards creating a sustainable future.
Ella Nosworthy, one of the festival's co-founders, commented: "We have always been committed to being as green as possible at the festival. In recent years the issue has become paramount. There are lots of green initiatives across the site, and this very much includes the Craft Area, which is going to be by far the most environmentally friendly it has ever been. On top of this, we hope to make everyone aware and educate our guests as to what is happening and what can be done."