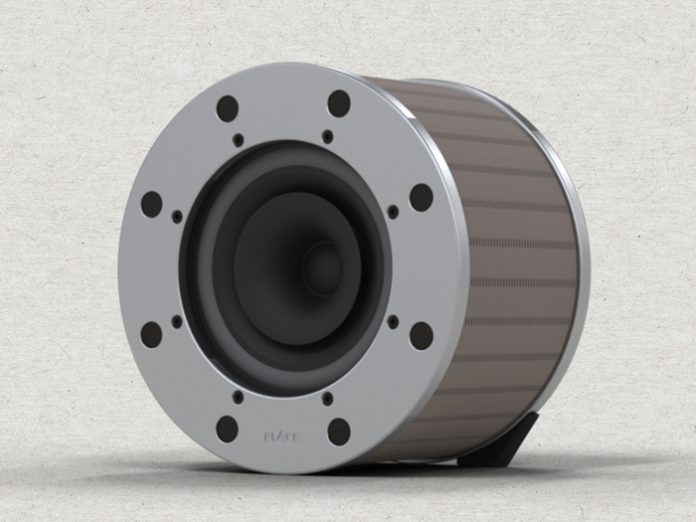 UK: A new loudspeaker by Flare Audio aims to disrupt commercial and domestic audio markets by offering premium sound quality and clarity, while using enclosure materials that are 100% recyclable.
Customisable across sixteen colours, Zero is the world's first loudspeaker to use recycled paper in the fabrication of its exterior. This makes it an eco-friendly choice for those seeking to enhance their green credentials, whilst also impressing on both audio and design.
Using its own patented Space technology, Flare clamps layers of 2mm thick recycled paper between solid, milled aluminium plates with such force the paper becomes rigid as concrete. There is no acoustic wadding in the speaker to damage sound purity, and no electronic correction (EQ) is required.
Zero's 'pure' sound comes from Flare's Vortex technology, the layers of rigid paper sheets forming hundreds of vortices.  Acting like tiny sieves, these vortices encompass the driver, trapping sound but letting air through to release pressure slowly, enabling the driver to move freely. According to Flare, this results in clear, accurate sound reproduction, 'like hearing the artist in the room', without the distortion and unwanted effects that result from traditional speaker designs. The Zero enclosure is 100% recyclable, something that Flare creator and CEO, Davies Roberts, was determined to achieve.
"With Zero I was on a mission to produce the perfect loudspeaker that wouldn't harm ears and wouldn't harm the planet," said Roberts. "The world needs to look at how we can produce new technologies with natural fibres. We use an English paper mill which makes the greyboard from recycled paper. This is then stamped into vortices. Waste is sent back to the paper mill, creating a perfect synergy and zero waste. The metal plates are machined from solid plates of aluminium.  Any waste from the machining process is recycled, again allowing zero waste."
Appearing as a series of 'floating' circles, Zero is a modular loudspeaker available in different models, that can be deployed in 'limitless' formations, either in individual components or in full stereo configurations. On the rear of the Zero 8.1 model, a wall mount option and diamond shaped 'swords' allow the loudspeaker to be stacked in various ways. Optional feet enable the Zero 12 or Zero 8.1 models to be shelf mounted individually.
Being able to customise the design makes Zero unique to work with from a visual as well as audio perspective. Colour schemes, corporate branding and the feel of a room can all be supported and enhanced using Zero's unique customisation, which can be altered on each component.
This new version of the original Project Zero speaker, first released four years ago in inch thick aluminium at a price point of £250,000, can now be obtained for less than a tenth of that price as a result of Flare's determination to make an eco-friendly model at a competitive price point.