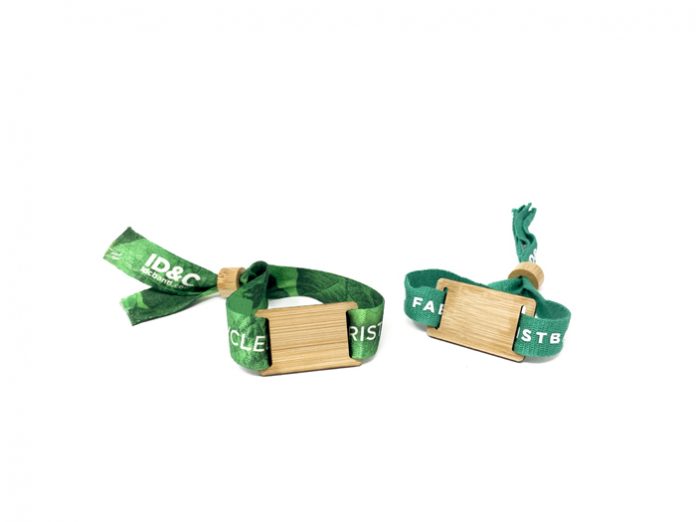 UK: ID&C has seen a huge increase in demand for its eco-friendly products over the summer. It comes after the company launched a series of eco-wristbands in April, in response to expectations from customers and pressure from event organisers to lower their carbon footprint. The eco-friendly wristbands are made out of recycled plastic bottles, which offer a greener alternative to standard wristbands.
This summer, ID&C included even more products to their range, with the introduction of eco lanyards, recyclable passes and mirror hooks.
They are also set to launch a robust bamboo smartcard and key card this month as an alternative to the traditional PVC smartcard and hotel key card.
George Anger, Head of Sales & Marketing at ID&C, said: "A core part of ID&C's DNA is to continuously innovate and introduce new products and solutions for our customers. The drive to offer more eco-friendly alternatives that avoid single-use plastics cannot be ignored and this remains a huge focus for the business in 2020 and beyond.
"Since we introduced these eco-products back in April we have seen a huge rise in demand for them. They were hugely popular over the summer with festivals and we've seen a big rise in orders in the lead up to the event season.
"Some of the largest festivals this summer used our recycled PET fabric wristbands and secure bamboo locks. We've also seen growing adoption of bamboo and recycled PET lanyards. For many years, we have been conscious of our environmental impact and have been continually exploring ways to become a more eco-friendly company.
"It is a tough challenge as our products have to be strong and secure, but we are always developing new ideas with the aim to provide a full range of alternative greener products."
According to industry estimates, roughly 23,000 tons of waste is produced at UK music festivals each year but only a third is recycled.
In 2018, 61 independent music gatherings signed a three-year pledge to get 'Drastic on Plastic', promising to rid their sites of single-use plastic by 2021.
Anger added: "Consumers are becoming more accustomed to the impact plastic has on our environment, therefore anything we can do to help protect our planet is a big thing. By avoiding single-use plastic and using a recycled alternative, our customers are demonstrating their commitment to the green initiative."