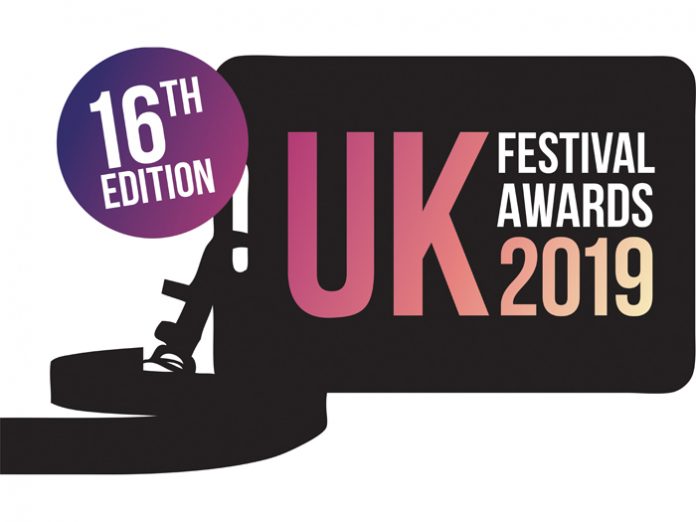 UK: The UK Festival Awards revealed its winners for 2019 on December 5, during the 16th annual ceremony at the Troxy in London. Hosted by rapper, comedian and actor, Doc Brown, the industry celebration presented accolades across 21 categories to various festivals, organisations and individuals in the UK's live events sector.
Those crowned include Download Festival (Best Major Festival), FOCUS Wales (Best Festival for Emerging Talent), Happy Maki (Concession of the Year), Green Gathering (The UK Greener Festival Award), and Parklife (Line-Up of the Year). The most prolific winner of the night was the inaugural Cleethorpes Festival of the Sky, which won both Best Non-Music Festival and Best New Festival.
Jenny Hamada from AEG Presents took home the newly launched Women In Festivals Award, and this year's Outstanding Contribution to Festivals Award was granted to Fiona Measham of The Loop.
The UKFA's Awards Manager, Michael Baker, said: 'We'd like to extend our congratulations to all of those who won and were shortlisted, as well as a big thank you to all who participated in this year's Awards. With over 450 applications and 55,000 votes, it was an incredibly competitive edition with levels of engagement that speak to a scene that's more vibrant and beloved than ever.'
Check out the full list of winners below.
The Innovation Award
Sponsored by: Light Design
WINNER: Hubbub Wireless at 2000trees
Marketing Campaign of the Year
WINNER: NASS Festival
Concession of the Year
WINNER: Happy Maki
 Best Festival Production
Sponsored by: Heineken
WINNER: All Points East
The Brand Activation Award
Sponsored by: CGA
WINNER: United Utilities at Bluedot & Kendal Calling
Agency of the Year
WINNER: Midnight Mango
Best Overseas Festival
WINNER: Sziget Festival
Best Non-Music Festival
WINNER: Cleethorpes Festival of the Sky
Best Metropolitan Festival
Sponsored by: Transition Video
WINNER: Tramlines Festival
The Grassroots Festival Award
WINNER: Mad Hatters' Affair
The UK Greener Festival Award
Sponsored by: A Greener Festival
WINNER: Green Gathering
Best Festival For Emerging Talent
Sponsored by: CPL Online
WINNER: FOCUS Wales
Best Family Festival
WINNER: Camp Bestival
Best New Festival
WINNER: Cleethorpes Festival of the Sky
Line-Up of the Year
Sponsored by: Tuned In Travel
WINNER: Parklife
Promoter of the Year
Sponsored by: Imaginators
WINNER: Black Deer Festival
The Women In Festivals Award
Sponsored by: Ticketmaster
WINNER: Jenny Hamada
Best Small Festival
WINNER: Woo Fest
Best Medium-Sized Festival
Sponsored by: Event-Trees
WINNER: Bluedot Festival
Best Major Festival
Sponsored by: Diageo
WINNER: Download Festival
The Outstanding to Contribution to Festivals Award
WINNER: Fiona Measham