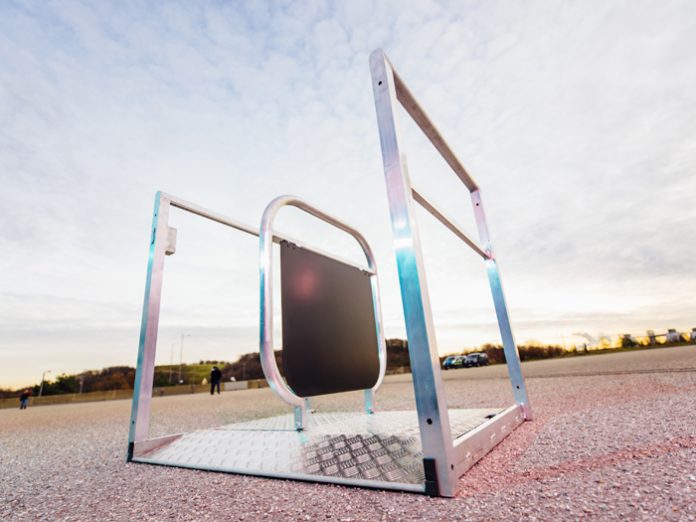 GERMANY: eps, the supplier of temporary event flooring and crowd control solutions, has introduced a new security system: the GIGS In/Out (IO) Gate, which delivers an entrance and emergency exit all in one.
"Recent international crowd security studies show that in an emergency more than 60% of audiences exit a venue via the same route through which they entered," explained Dirk Boda, Technical Manager at eps. "This is a statistic that crowd control specialists are aware of, but crowd flow efficiency has been hindered by a lack of supplier led solutions.
"Our GIGS IO Gate links both functions with each other for the first time. It is a perfect combination of a line-up gate that enables controlled audience entrance and an emergency gate".
Constructed as a security double line-up gate, the GIGS IO Gate can become a reliable emergency gate within seconds. The central handrail is unlocked at the push of a button and automatically relocates to the side. The gate opens to a full width of 1.2 meters to become an emergency exit, compliant with the latest safety regulations. The integrated table also folds down automatically when the gate is unlocked.
"It's a product that security specialists worldwide have been waiting for for a long time," continued Boda. "After 12 months of development, we have successfully tested the system during a high profile sporting event in Germany. We were absolutely thrilled with how well it was accepted by the audience and the security experts."
The GIGS IO Gate is particularly suitable for stadium shows – in the front of stage areas or in 'golden circles' – as well as at sporting events in the secondary safety circle of the venues. It is also ideal for locations with limited escape routes and other major events with large crowds of spectators that necessitate innovative security precautions.
The GIGS IO Gate is manufactured in the eps' own production facility in Italy and is part of the modular GIGS system. Compatible with the GIGS series, the system guarantees extreme flexibility, high stability and assured safety. It is available with numerous accessories such as an integrated table and trash can.