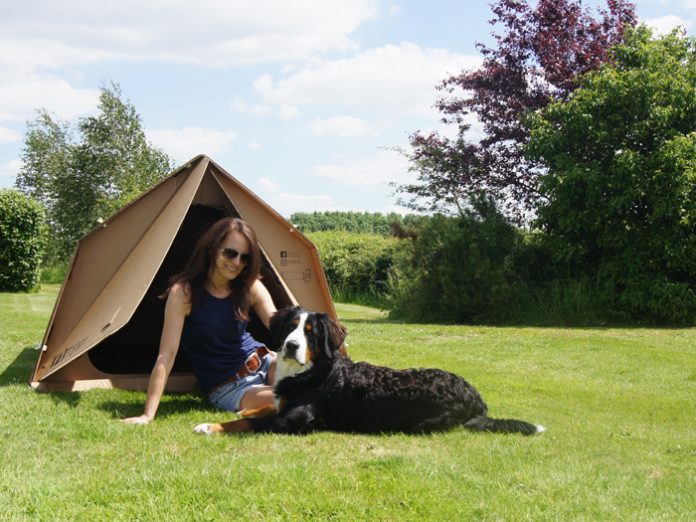 Kirsty Peters is a Marketing Graduate passionate about developing new markets for innovative products in the UK. An enthusiastic festivalgoer and a champion of everything green, Kirsty has thrown herself into becoming the British cardboard queen.
In 2019, we saw shocking reports detailing one of the biggest problems our music festivals face: the dramatic levels of plastic waste left behind. The industry has taken big steps forward to move away from plastic straws and single-use cups but there is still one festival item that needs serious attention – the abandoned festival tent, and we are abandoning more than 250,000 plastic tents in the UK alone every year.
The average tent is mostly constructed from plastic that cannot be recycled after its lifecycle. Given that the average weight of a festival tent is approximately 3.5kg, we are dumping more than 875 tonnes of unnecessary plastic waste into landfill sites each year. Staggeringly, research suggests it will take an estimated 1,000 to 10,000 years for them to fully decompose. And this is just in the UK.
So why are tents being left behind? There are a number of directions in which to point a finger. Firstly, we are seeing more and more retail outlets selling cheap, poor quality tents that are simply not designed to last and have been labelled by many as 'single-use tents'. The government's hands are tied; they cannot simply ban 'cheap plastic tents' because the definition of what constitutes one is unclear.
We are seeing more rain due to climate change – resulting in wet, muddy, broken and therefore 'unpackable' tents. When layering in a weekend of partying and little sleep, packing up the tent is the last thing on a young camper's mind. Many festivalgoers also make the incorrect assumption (or at least favour the idea because it's convenient) that all tents left behind are donated to the homeless or other charitable bodies who can make use of them. Although this may be the case for some festivals who have chosen to work with organisations that can make use of tents left behind, this is certainly not standard practice for every festival.
Living in a throwaway society means that cheap festival tents hold little value and it's easier to dispose of them than take them home and reuse. An increasing number of festivalgoers are also traveling by train or air, leading to a further increase in tent abandonment on festival sites,
Festivals are trying hard to send the message that all tents need to be taken away and campsites left clean. There are enormous costs involved for clearing festival sites, in 2016 it was estimated that Glastonbury spent £780,000 to dispose of all their post-festival waste, with the bulk of it coming from the campsites. Surely such a vast amount of money would be better channeled into enhancing the festival experience or perhaps environmental projects?
Organisers are now forced to find longer-term solutions to the increasing tent waste crisis in an attempt to 'clean up' festivals and make them more sustainable.
There are several options for consideration. One suggestion is to impose fines on anyone leaving waste behind – a great idea if you can catch them in the act. Perhaps each camper should pay a deposit for his or her camping spot, which is only refundable when the site is clear? One could envisage a scenario in which unscrupulous campers simply move their rubbish into a nearby empty site, however.
There have been no clear alternatives on the market until two Dutch entrepreneurs proposed a unique solution that they described as a "cardboard revolution" – the KarTent. They developed the idea of manufacturing a 100% recyclable festival tent set to challenge the traditional ways we camp at festivals and offer a sustainable alternative to plastic tents. It might sound crazy until you learn that cardboard will block out sunlight, keeping your tent dark and cool day and night. The construction of the KarTent allows it to stay watertight, lasting for several days in the rain.
Each KarTent is pre-pitched ready for campers' arrival, adding convenience to the festivalgoer's experience and in turn keeps luggage to a minimum and encourages the use of public transport.
KarTent have taken the next step in their mission of circularity. Once used the KarTent is no longer just recycled but repurposed into new products that can be sold directly to consumers and events. KarBins, camping chairs & tables, children toys and other household items are now made from upcycling KarTents. In comparison, plastic festival tents, whether they are single-use or indeed used multiple times, will always end up in landfill where incineration costs more money (and more pollution) than normal waste due to the material specifications.
So, when buying your festival tickets in 2020, before your head off to the local retail outlet offering the cheapest festival tent on the market for your camping weekend, please consider the implications and the alternatives. Consider the implication of 875 tonnes of plastic waste buried in landfill each year compared to the alternatives such as the king of cardboard camping for a completely eco-friendly camping solution.
Source for stats: The Association of Independent Festivals and A Greener Festival