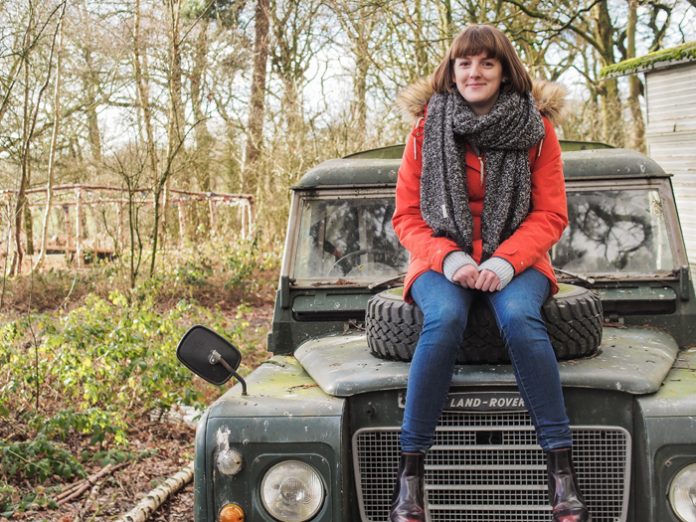 Vicki Taylor is PR Manager for Wild Rumpus, and works across Just So Festival, Timber Festival and Hinterlands Rural Film Festival. Alongside producing large-scale events, Wild Rumpus works with performers and producers to shape a cultural environment where excellent outdoor work thrives.
My daily commute starts off in the same way as many other people's. There's a mad rush to cram everything into my bag and race to the car, I hope I can get away with not stopping for petrol, and then I promptly get stuck in a traffic jam on the motorway.
But that's probably where the similarities end. In the final 10 minutes of my journey I signal off the M6, drive down winding country lanes and pull onto a muddy farm track. I pause halfway to collect the office milk, delivered every other day by the milkman, and stop on the edge of a small woodland. Most days I hear the 'tap tap' of a woodpecker who lives in the tree near my parking spot. I hoist my backpack onto my shoulders and walk the final stretch down the rest of the lane to the office – a 16th century farmhouse surrounded by fields.
This isn't your average commute or your average office, but my day to day job is likely to be very similar to yours. I work on a laptop, answer emails, draft documents and have meetings – the usual office stuff. My office just happens to be a farmhouse, and sometimes my office chair is a blanket on the grass or a log next to a fire pit in the woods.
I work for Wild Rumpus, an outdoor events company who truly put the outdoors at the heart of everything we do. We create award-winning events which celebrate nature and believe that when audiences experience quality art together in the great outdoors, something quite amazing can happen. And we want to practice what we preach. Sending out a press release about how incredible it is to watch circus in a beautiful woodland whilst sat in a city centre office would be verging on hypocritical. Wherever we can, we work outdoors.
"How silly", you might say. "I bet you don't get anything done." But the opposite is true. We're more ambitious because we work outdoors; we have team meetings on long walks instead of being stuck inside the same four walls.
But it hasn't always been like this. Wild Rumpus, as with a lot of small businesses, started with the spark of an idea round a kitchen table. Friends Sarah Bird and Rowan Cannon set up Wild Rumpus to create Just So Festival, a weekend of adventure on the Rode Hall Estate in Cheshire. Everything is focussed around families having an incredible time outdoors, enjoying live music and art together in the natural environment. As the company grew, they decided to move from their kitchens to a 'proper office'. They got themselves a lock-up in Macclesfield town centre, because town centres are where people go to work.
They quickly realised that something wasn't quite right. It was jarring. Sitting in a windowless room wasn't the most inspiring environment for creating an outdoor arts festival! After the third Just So they decided to radically change the way they worked by moving to a woodland near the festival site. They bought a Bedford horsebox to use as an office, built some compost toilets, and began having meetings round a campfire. They immediately found that they were being more creative because they were working so closely with nature.
As Sarah and Rowan began taking on more people, the team outgrew the horsebox. Last year we made the biggest change yet in the 10-year history of Wild Rumpus. We expanded to establish The Forge, a pioneering creation centre which includes the Whirligig Woods, our design barn where we build our stages and festival props, and Ashbank Farm which has become our main office.
Having this much space means that we can invite other artists to come here to create new work and share our inspiring outdoor environment. We can also carry on our aims to work as closely with nature as possible; last spring we started a kitchen garden for our staff and artists to use, we have chickens roaming the woods, and we're working to become carbon neutral.
I think that working in the way that we do at Wild Rumpus makes you keenly aware of the world around you. I've noticed that the daffodils in the farmhouse garden are coming up earlier than last year; it's February and it hasn't snowed yet; the bees in the garden hive have woken up and are buzzing against the windows of the house. If I were still travelling to an office in the centre of Manchester every day, I wouldn't take as much notice in the cycle of nature and how climate change is having a real impact on the landscape in which I work.
Working so closely with nature inevitably leads to an increased awareness of the effect that we all have on the natural world. We've always been keen to minimise the negative effects which Wild Rumpus and the events that we produce have on the environment and have worked hard over the years to establish eco-friendly ways of working which can be seen throughout all of our events.
One of Wild Rumpus' aims is to demystify nature and to encourage people to incorporate more fresh air into their everyday lives. The company you work for might not be able to move to the countryside, but if you have the chance to work from home occasionally then why not take your laptop to a park instead of automatically sitting at your kitchen table? If you're able to, could you suggest that your next team meeting happens on a walk instead of in the boardroom?
There's an idea that being outdoors isn't productive. Outside is where the weekend happens. Surely Mondays can't exist in the garden, or in a wood, or in a treehouse? They absolutely can, and should. Let's all try to get outside more during our working days and see what happens to our creativity and our outlook.
And yes, we really do have a treehouse.