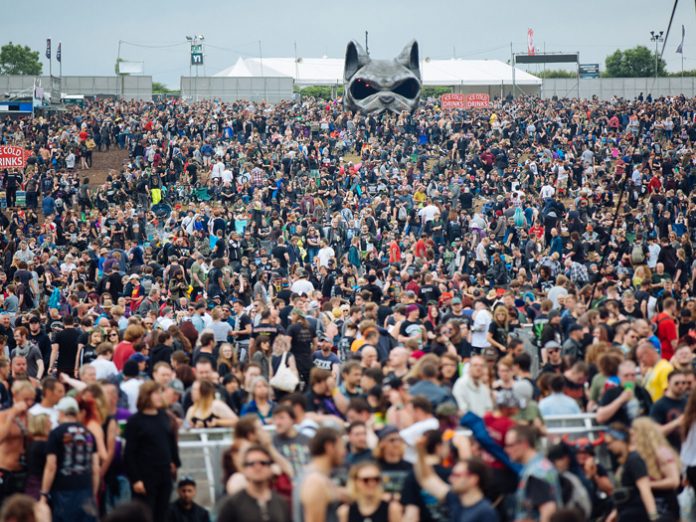 UK: Download Festival has announced major site improvement plans for its upcoming edition, set to take place from June 12 – 14 in Donington Park, Leicestershire.
The festival's Village area has moved closer to the Arena and will be located on the hard-standing tarmac lake, home to a new festival merch store for weekend campers. Download has become even more sustainable onsite with 100% Hydrotreated Vegetable Oil biofuel to be used that will reduce carbon emissions by a dramatic 60%, and vegan options have increased. Alongside new locations for all campsites, walking distances have decreased, and with the new Castle Donington Bypass, there is the addition of an East Car Park. Download Festival's legacy will also be encapsulated with a time capsule burial onsite over Download weekend.
Melvin Benn, Festival Republic MD, said: "Download is a festival like no other, the audience is as essential as a headliner and we're excited to bring these site changes to the 2020 festival for better customer experience. The new location of The Village is incredibly exciting as we have made use of the hard-standing tarmac lake. What's equally exciting is the merch superstore that will be located here, with plenty of options to commemorate the weekend. The new Castle Donington Bypass has allowed us to introduce a third car park for those coming from the North, and all these site changes have reduced walking times across the site.
"The legacy of Download deserves to be celebrated so we will be burying a time capsule onsite during Download weekend. Artists will add to it, and I would love for Downloaders to be involved by suggesting items to include and becoming a part of history. Here's to a great 2020."
Download Festival have reduced walking distances for festival attendees by moving campsites, car parks, the transport hub and The Village. When campers were looking at almost an hour walk to campsites from The Arena, the new campsite locations mean that Downloaders can reach their tents in the furthest campsites from The Arena in just 25 minutes. As The Village is now a central hub between campsites, this can be reached from the majority of campsites in 10 minutes or less.
The newly located general campsites will also see a fan rebrand, and Downloaders can suggest what each of the six campsites should be called here. Greenpeace's Eco Campsite also returns for its third year, with 100% of tents taken away in the previous two years.