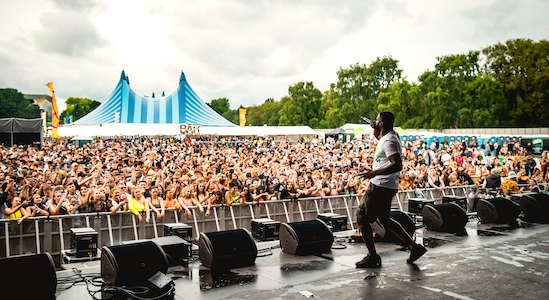 The West Midlands' biggest and best music and arts festival has moved to a new date of Saturday 18th September at Sandwell Valley Country Park. After lengthy discussions with local authorities and statutory bodies, the MADE Festival team is delighted to deliver the 7th edition of one of the West Midlands' most culturally significant and enjoyable events.
MADE Festival has announced it will move to the new date of 18th September 2021. Originally scheduled to take place on 31st July at Sandwell Valley Country Park, festival organisers are delighted to confirm that, after lengthy and often challenging discussions with local authorities and statutory bodies, this year's event will go ahead. The new date reflects the determination of the MADE Festival team to deliver the 7th edition of one of the West Midlands' most culturally significant and enjoyable events, and to give festival fans the celebration they deserve after a long and difficult period without live music. MADE Festival will follow the same rigorous Covid Certification Process as recent large scale events involved in the government's Events Research Programme. The aim is to significantly reduce any risk to guests, staff and artists, and to create an environment where fans can enjoy live music without restrictions. Tickets are back on sale for the festival at
www.made-festival.co
.uk and customer FAQs are answered here:
FAQ (made-festival.co.uk)
For an embattled festival scene, the confirmation that MADE Festival will go ahead this year is very positive news. It will also be the festival's first year in its new home of Sandwell Valley Country Park – 660 acres of stunning scenery on the outskirts of Birmingham – a perfect venue for the event.
A festival spokesperson said, "We have battled tirelessly to ensure the festival is able to go ahead. Moving dates is an expensive and difficult process which none of our hardworking team ever wanted, but in exceptional circumstances we have worked with all the relevant authorities and stakeholders to overcome any concerns and find a compromise. We are acutely aware that changing festival dates at late notice may cause disruption for our guests, and would like to apologise unreservedly for this, while also thanking MADE fans for giving us their support as we fought for the festival to go ahead. All the artists and suppliers have been hugely supportive of the situation too, and after more than 500 days of not being able to hold events, we could not be more excited about this announcement."
After consultation with Public Health England, MADE Festival will be adopting the Covid Certification Process which offers a number of simple ways for guests to gain entry to the site. These include a negative lateral flow test (within 48 hours of the event), proof of natural immunity based on a positive PCR test within 180 days of the event, or double vaccination at least 14 days before the event. This is the same procedure successfully used at recent festivals such as Latitude (35,000 guests) and Tramlines (40,000 guests) and is free and simple to arrange.
All the headline acts from the original line up will perform, with only a small number of acts unable to make the new date (replacement acts will be announced shortly), including a long-awaited headline set from West Midlands' heroes, The Streets. At least 20,000 festival fans are expected to attend as MADE underlines its position as one of the UK's most significant festival brands.
The festival spokesperson continued, "We want to put on an incredible event for festival-goers but our event is also vital to the wider industry and community. We have a long history of supporting local artists including singers, rappers, live musicians, DJs, painters, set builders, live immersive performers and more. We support local independent traders and offer the equivalent of thousands of days work to event staff, stewards, security, cleaners and others. This is why we have fought so hard to put on this year's festival. It belongs to all these people as much as it does to us."
The new date will see MADE Festival celebrate its 7th edition with 7 stages, covering hip hop, drum & bass, house music, garage, bass, soul, and jungle.