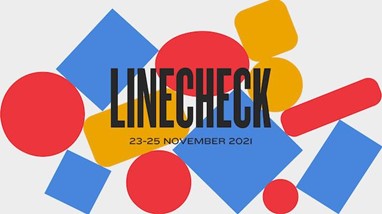 ANNOUNCES 2021 DATES, CONFIRMS MAIN THEME AND FIRST SPEAKERS
REVERSE: A CHALLENGE FOR THE FUTURE OF THE MUSIC INDUSTRY
LAUNCHES HYBRID EVENT FORMAT
Linecheck, the global forward thinking annual music conference and festival announces 2021 dates and confirms the main theme of its 2021 edition, which will take place from 23 to 25 November 2021 at Milan's hybrid center for culture and creativity BASE (Italy). Tickets on sale now from WWW.LINECHECK.IT
Acting as a catalyst for change in the music industry, Linecheck is an unmissable event for music industry professionals and music lovers. At its seventh edition, Linecheck has established itself as one of Europe's best city festivals and new economy conferences. This year Linecheck announces the launch of a new integrated hybrid format, which will combine an in-person conference and festival experience at BASE in Milan (Italy), with a virtual component through live streaming content accessible from Linecheck's website www.linecheck.it and live showcases screened in real time across seven international cities; London, Paris, Berlin, Madrid, Milan Hamburg and Haldern.
The music meeting and festival, which addresses the theme of music today and tomorrow, it's a celebration of talent, creativity and new ideas. Offering three packed days, with a program that showcases international diversity across 60 events, including panels, workshops during the day, with over 250 industry speakers and with a genre-blurring mix of over 30 artists from different countries showcasing during the night. Linecheck is the ultimate meeting place between professionals and enthusiasts of the music sector, an incubator for dialogues between music, creative, technology and cultural industries, bridging the gaps between Italy, other European countries, the UK and the rest of the world.
The main theme of this seventh edition of the music conference will be #Reverse, chosen to explore the present and future of the music industry, its trends and economics with a view to pushing collective innovation outside the conventional framework. #Reverse will resonate across the music meetings, imposing a change of perspective, disruption and transformation of the ever-evolving business of music. We will talk about Creators' Rights, exploring the economic value of music rights granted by creators, the intellectual and property rights associated with original works, their performance and dissemination. Shared Experience willfocus on music fans and the new trends that are shaping the way music is enjoyed, consumed and shared: online, offline, alone or together. In Play: Fair, a macro theme that will address the music ecosystem, we will explore the framework of action to achieve a more sustainable music industry, systemic gender inequalities, how to promote a culture of inclusivity, awareness and acceptance around mental health issues, and environmental cost of music and its footprints. Beyond Boundaries will explore territorial borders and Europeanisation, as well as cross-sectoriality, proposing innovation as a way to overcome territorial, mental and technological boundaries. While in Creative Synergies we will examine the mode of interactions between different creative industries, exploring the relations between music artists, commercial brands and the different media drivers.
The first wave of speakers confirmed for the music conference are in alphabetical order: Cesar Andion (PR & Talent export at Live Nation Spain), Roberto De Luca (Head of Live Nation Italy), Milena Fessmann (founder of CineSong, Germany), Maxie Gedge (Project Manager at Keychange and Communications coordinator at PRS Foundation, UK), Simone Lippold (Head of Innovation Development at the Börsenverein Group and strategic project lead of the EU project creativeSHIFT, Germany), Laura Marchesi (Key account management & Artists services at Ticketmaster, Italy), Eleanor McGuiness (Agent & Partner, PlayBook Artists, IE), Amira Morstaq Ali (Norwegian Broadcasting Corporation, Norway), Filippo Palazzo (CEO of Asian Fake, Italy), Alessandro Pavanello (Kanjian Music, China), Marina Ponti (Global Director of the United Nations SDG Action Campaign, Germany), Stefan Reichmann (founder and artistic director of Haldern Pop Festival, Germany and of Kaltern Pop Festival, Italy), Ferdinando Salzano (Founder of Friends&Partners, Italy), Mar Sellars (manager and radio host, Mar On Music, Canada/UK), Shain Shapiro (Founder and Group CEO at Sound Diplomacy & Executive Director at Center for Music Ecosystems, UK), Filippo Sugar (CEO of Sugar Music Group, Italy), Jean Philippe Thiellay (President of the Centre national de la musique, France), Shauna Watson (Label manager at The Orchard, UK), Savannah Wellman (Co-founder at Tiny Kingdom Music, Canada), Clemente Zard (CEO of Vivo Concerti, Italy).
Talking about Linecheck 2021, Dino Lupelli, General Manager of Music Innovation Hub, who coordinates the team working on several large scale projects including Linecheck,says: "For the music sector it is not only time to restart, but also to look at itself in a different way. Catching those early signs of change has always been at the heart of Linecheck. in our seventh adventure we aim to look at the ever-evolving music business in a disruptive way. The reference market is now global and the key words for the development of new activities and new projects have dramatically changed."
A #Reverse innovation will also be at the centre of Linecheck Festival, whose first confirmed names are La Niña, Giungla, Memento, F.U.L.A. Plastica and Melenas. The live shows of the headliners of tomorrow will converge in the virtual dimension of the music conference; showcases will be screened in real time from BASE Milan and from seven international cities: London, Paris, Berlin, Milan, Madrid, Hamburg and Haldern.
Linecheck main partners include JUMP – European Music Market Accelerator, the project co-funded by the Creative Europe Programme of the European Commission, coordinated by MaMA Festival and Convention (FR) and implemented by a network composed of Un-Convention (UK), C.T.L (PT), M.E.S.O (GR), Nouvelle Prague (CZ) and MIH (IT). JUMP provides a framework for music professionals to develop innovative business models. It aims to help the music sector adapt to the recent market transformations, while encouraging it to work on a transnational level. JUMP will end at Linecheck 2021. The intersecting project creativeSHIFT, which fosters the relationships between the music industry and the other creative and cultural industries, as well as the ETEP – European Talent Exchange Program and INES – Innovation Network Of European Showcases networks.
Linecheck is also part of the global Keychange network, a movement for gender equality in the music industry, funded by Creative Europe, which aims to fully reconstruct the music industryto support women and gender minorities, to which the music conference adheres, with the goal of a gender balanced line-up.
All the activities that will take place between BASE in Milan and the other European venues will be broadcasted in paid streaming on www.linecheck.it, a digital platform developed in different continuous channels, each of which will have a player for direct streaming, chat for the interaction between delegates and questions to the speakers, as well as a database containing all the delegates information to facilitate networking.