Yes takeaways, not the ones we've been used to over the past couple of years (yeah, wish we'd bought Deliveroo shares too…and Zoom) but those little nuggets that festivalgoers take from site, a new band, drink, idea, friendship, passion, belief. A festival that starts with the aim of delivering takeaways by providing an eclectic, globally sourced line up coupled with workshops hosted by some of the world's leading social missions is worthy of investigation, so we hopped onto Zoom to catch up with twoRhythms Sans Frontières (RSF) founders and directors, Gemma Brown and Gary Newland.
As Newland explains, it all started with a name. "It goes back to around 2015, when I was running an education workshop event for around 600 people, called Drum Camp…we had this committee that we were working with and we were deciding on a name change and I put forward this name 'Rhythm Sans Frontières', which was poo pooed by the others and it got voted out." Undeterred, the name stuck in his head, and it now seems to have found a home, as Newland continues: "I've done a lot of work with Medicines Sans Frontières, I've been working with them for about 5 years, we do lots of fundraising concerts. It's also trying to be European; it doesn't have English language as its name…that name, Rhythms Without Borders, it gives that fleeting Utopia, that you can come to something without any boundaries, without any borders; it also reflects the World Music side. A bit of a thumb-nose to Brexit as well, and geographically we're closer to the Netherlands and Belgium than we are to the West Country". It seems that longer term growth plans will attract a European following, arriving at nearby ferry ports.
Newland's events experience extends beyond drum camps after being brought into the Womad Festival to, as he describes "manage the two stages that run their workshop content, you'll get an artist on the main stage and then they'll come to my venue and do a participatory workshop. All of that came out of the Drum Camp event and it started a 20-year relationship that is still strong to this day, enriching me all the time."
As we're finding in our chats with promoters, Covid did bring positives, mainly time to think and change, as Newland continues: "When Covid hit, Drum Camp was coming up to its 25th year and I sensed it was time to end on a good note; there was a lot of disappointment but Covid gave me that blank sheet of paper where I suddenly had all this time; Rhythms Sans Frontières was straight on there as the name. And then…getting directors, accountants, investors, let alone programming."
Newland has a long-term vision for RSF, taking on partners that share this; time to introduce Gemma Brown, who, with life and business partner Marcus, run Wooden Roots who build, source, sell, repair and teach Djembe. The relationship started in 2018 when the then LA based Wooden Roots were invited to bring their whole shop to Drum Camp; Newland continues "I just love the way they operate, they have that real energy and that real LA sales ethic. I though that these people are going to be great to work with. We dipped our toes in the water, did a couple of smaller things then we just sat down and brought them into Womad as a sponsor. They were then ready to go into something bigger and this collaboration is where it led to."
Wooden Roots' 2018 involvement with Drum Camp was a little bit more than a business trip, as Brown explains "We're both British originally, Marcus is from London, I'm from Durham but we didn't want to return to our original homes. We'd done research and found that Suffolk had this kind of micro-climate that we could probably cope with, we came back in 2017, drove round East Anglia, bought a house, sold in LA and the first person we met was Gary" This proved to be the conduit for establishing Wooden Roots in its new, UK base. This was no accident, as Drum Camp had a reputation amongst the Djembe community, with renowned exponent Babara Bangoura visiting LA and raving about his 2017 visit to Drum Camp and suggesting "maybe you guys are going to move close."
Two drum camps and a Womad, the realisation that starting again in the UK is simpler than transferring a business across the Atlantic, all closely followed by Covid (covering two out of three years' UK trading), a loyal following and strong customer base developed through strong branding paid dividends.
For RSF, partnerships extend beyond the directors and sponsorship, Newland explains "We're all 100 miles per hour with different hats on, it's a big deep breath, delivering a festival when you have the Covid hangover, a cost of living crisis and now the Ukraine invasion by Russia but we're prepared for it to be a long term thing and we're hoping that it 'wipes its nose' in year one; we've got to get our brand out there and part of that is looking at collaborators and with the work I've done with Medicines Sans Frontières, I though, why not open that up and make the whole event about human rights, climate change, humanitarian organisations, so we went through the process of talking to these four main NGOs; Amnesty International, Medicines Sans Frontières, Frank Water and World Land Trust and they were all absolutely on it". This isn't just about fund raising (in RSF's case, through contributing 50% of parking and other vehicle fees) but creating a dedicated MGL village where attendees can take part in workshops or hear what Newland describes as "immersive talks that can really inspire people".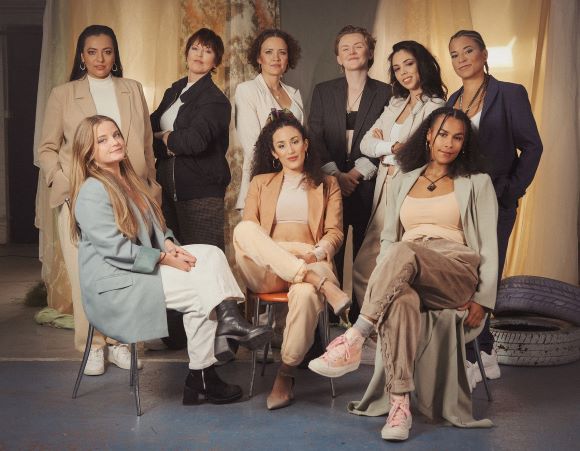 The conversation continues on the theme of social good and the restrictions that might bring; Newland continues "you've got to be so careful, when you put yourself on a high platform, there are people that want to find fault, even down to the venue, I had to do due diligence on the owner, the wonderful Duke of Grafton who took over from his Father about 8 years ago. I knew that he'd worked as the Rolling Stones' merchandising manager, apparently Mick Jagger used to call him Harry Five Names because of his huge title, but then I thought, the aristocracy, there's a history there. I did my research, and his family were abolitionists." Due diligence on the lineage of the site owners aside, we look at sustainability. "we're not going to get everything we want in place in year 1 but we're managing to achieve an awful lot such as running our NGO village off solar power and Rowan Energy, our wonderful sponsors, they knew it was something he wanted to get behind and have belief in our core values." The relationship goes beyond financial and toward the goal of a completely carbon neutral event, using Rowan Energy's expertise and contacts.
Audience travel is, as ever, a challenge "whilst we've offered a shuttle bus service from the local train station in Thetford to make public transport as attractive as possible, but maybe because of our audience demographic, they want to bring their car, they want to bring their motorhome, so we're putting half of the parking charge revenue back into the NGOs." A topic we've recently covered at Festival Insights, gender balanced line ups is another consideration that came naturally "I was getting posts on Facebook saying 'I hope you get more females in the line-up' and the ticket buyers at the moment are 67% female so we have quite a lot of all-female artists like Colectiva, an 8 piece new wave Jazz group, the all-female African Choir of Norfolk, Yaya Bey, it really was about having that balance in the programming". We see more, especially the fantastically named and splendid sounding All Day Breakfast Café. The line up balance is, of course, kept in check by Gemma but in citing Colectiva as an example "I saw them supporting another act, friends of ours, and reporting back to Gary that we've got to have them, and he turned round and said we're already in talks with them"
With a site that has the capacity for growth from year 1 targets, Newland realises "we have to work hard at this, on what distinguishes us from the others, hopefully it will appeal to people who have a conscience about what's going on out there" Their ambition this year is also tempered by possible supply chain issues "there's a wonderful site manager that I've known for a number of years, he's got an incredible amount of kit so I talked to this guy early and we can take the one stop shop approach".
And so, to site footwear with both hedging their positions with a selection, Brown choosing Doc Martens or Keens for '" the major tromping around" but with wellies on board for if things get liquid, but if it's good, the Nikes will be coming out. For Newland experience dictates wellies in reserve but generally "I stick with Merrell sandals because I like that air around my feet, but obviously in set up and load out it's hiking boots". Speaking for Marcus, we learn that his size 16 feet necessitated an immense Nike order before leaving LA, some of which remain boxed and protected from the English weather – wellies may have to do.
With a line up designed for open minds, a workshop programme to inspire and the likes of Amnesty International, Médecins Sans Frontières, Frank Water and the World Land Trust there to enhance consciousness, RSF certainly will deliver takeaways, be it a new favourite band, a revived passion for dance or a hand-crafted Djembe, from the Bambara words Djé: gather and bé: peace.
Rhythms Sans Frontières Festival takes place on 1-3 July at Euston Park, Suffolk.