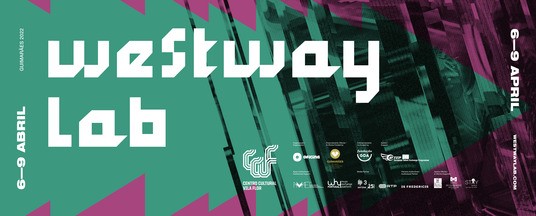 Taking place from 6th to 9th April 2022, Westway LAB, Portugal's first Showcase Festival & Pro Music Conference, returns for its 9th edition in Guimarães.
Launched in 2014, Westway LAB has always been as much about creation, and the creative process, as it is about the music business and its commerce and this year's event will take a closer look at the ecology of co-creation and innovation, with 6 co-creation projects that unite artists from Portugal and the European continent. As always, the resulting showcases will be free concerts so that these unique moments, where new material is performed live for the very first time, are totally accessible.

Westway PRO conference will host the following panels and presentations

European Ghosts:
Co-Creation at the centre of Musical Heritage preservation and re-invention
European Ghosts is a Music Moves Europe co-creation project and preparatory action. Presented for the first time at Westway LAB 2022, its findings in the creative exploration on the co-creation of new works based on European ancient musical traditions, re-invented for the 21st Century, will inform the new Creative Europe programme helping shape the way forward for music support programmes in the new Creative Europe framework. Moderated by NORD University's Hans Stop, the panel features ethnomusicologist professor and artist Paal Fagerheim, also from NORD in Norway, as well as artist curators Joana Negrão (PT) and Misia Furtak (PO).

Musika Peripherika "Innovation Lab" Presentation
Building on European musical heritage and folk traditions, Musika Peripherika is an innovative European audio-visual and music project documenting the creative processes in co-creation and field recording sessions filmed across Europe. From this pool of musical filmed works, using a new .music Unique Identifier metadata code for each creator involved, the project maps out all creators involved in the music as well as audio-visual creative process and tests a new open framework for registrations with rights societies, in an automated, trans-European fashion. The resulting films and recorded music, along with the corresponding metadata, will build up a new European Open Framework of musical and A/V rights to test ways through which we can increase the speed and transparency of rights distributions across Europe – both publishing rights as well as neighbouring rights. Furthermore, using the new .music domains for all participants as well as residency field recording films, video clips, interviews and other A/V filmed output, the project will test ways through which the new .music websites, which will all be web 3.0 video-enabled, verified domains with HTTPS built-in can be linked through a new European music video portal. A new European Sound Labs production library will further promote cooperation between the music and A/V sectors across Europe, fostering freedom of artistic expression, intercultural dialogue and social inclusion, access, distribution and promotion.

MC&S Lab Project Presentation
Music Creation and Songwriting LAB is a Music Moves Europe project to support creativity and mutual learning of creators and performers. The main goal of MCS_Lab is to create a comprehensive program which will not only gather composers and songwriters from the three represented countries (Poland, Portugal and France), coming from different music genres and backgrounds, as part of joint creative work during songwriting camps, but which will also provide them with the necessary theoretical knowledge and with the support of mentors with long-standing experience in the music industry. The project will involve three songwriting camps, one of which will be dedicated to work on songs to be used in films and commercials in the future, involving film and contemporary music composers.
MEWEM Panel
MEWEM comes to Portugal via a new Project Partnership between Le LaBa and AMAEI, fostering a new mentoring scheme between Portugal and France.  The problem of professional inequality between women and men in the cultural and creative industries is an old one, and it persists, in fact, women represent barely 10% of business creators. Mentoring is therefore a particularly effective tool for professional and personal development in a traditionally male environment.
Music Moves Europe in the new Creative Europe workplan
Portugal's Creative Europe Desk star Susana Costa Pereira presents the new Creative Europe workplan and how it continues the support for music that was started under the Music Moves Europe preparatory actions of the last three years.

How to export via the Metaverse Music Finland's Turo Pekari brings his tech knowledge and futuristic visions back to Westway LAB in Guimarães to discuss the road ahead in music export within the heralded metaverse.

In Addition WHY Portugal will also present the opening concert at WOMEX 22 with the theme "The New Sounds of Lisbon".

More to be announced soon. Westway LAB registrations are now open at https://hopin.com/events/westway-lab