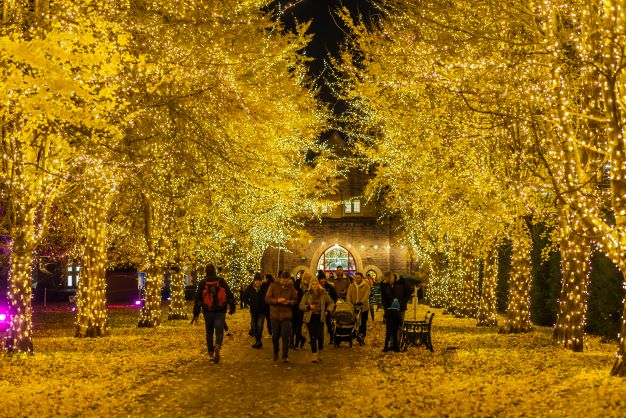 Mustard Media and From the Fields are among the Eventex Awards 2022 winners – the 12th global awards for events and experience marketing. The agencies worked together to create and market the multi-award winning event, Christmas at Bute Park in 2021, which has been awarded three prizes in the Global Eventex Awards, UK Event (Gold) Use of lights (Gold) Best outdoor event (Bronze). Not a bad haul considering the 606 entries from 33 countries.
Christmas at Bute Park was a brand new festive light trail, which launched in November 2021 and took place at Bute Park in Cardiff.
Mustard media drove incredible results, selling 40,000 tickets in just 48 hours, and then going on to sell 80,000 tickets in total generating £1.6 million in revenue. From The Fields Director Ben Robinson said " The launch was one of the most successful on-sale days in the From the Fields history."
The installation provided a truly immersive experience which was enhanced by festive music composed especially for the trail and installations from aspiring artists. From the Fields went above and beyond to ensure that the event was truly accessible for all audiences. Accessibility is extremely important for any event but most companies tend to just look at wheelchair access. From the Fields held special nights to cater for visitors with learning disabilities who needed the audio turning down and fewer people on the trail.
The campaign was judged on its creativity, innovation, objectives, planning, execution, effectiveness and results and scored highly across the board.
Robert Masterson, MD of Mustard Media said, " We are delighted that our work on Christmas at Bute Park has won three awards in the Global Eventex Awards. The event was truly unique and it was a joy to support the From the Fields team to bring the event to market. The marketing campaign exceeded it's targets and the event itself was a huge success with audiences- great teamwork all round."
Ben Robinson, MD of From the Fields said " We took a huge risk launching a festive light trail, in summer, during a pandemic, but our gamble certainly paid off. We are incredibly proud of the event and the effort and creativity that went into its creation, and how it was received by our audience. We loved working with Mustard Media who brought expertise, creativity and excellent results from a marketing perspective. We're over the moon that all our hard work has been recognised for these awards."
On presenting thwe award, Ovanes Ovanessian, Co-founder of Eventex Awards said: "The industry faced some unprecedented challenges over the last few months, but here is another shining example of the dedication of its talented professionals to produce amazing event experiences. Winning an Eventex award is recognition for everyone at both Mustard Media and From the Fields, so personally and on behalf of the whole Eventex team I want to congratulate you all, with this great achievement."
https://www.mustardmedia.co.uk/