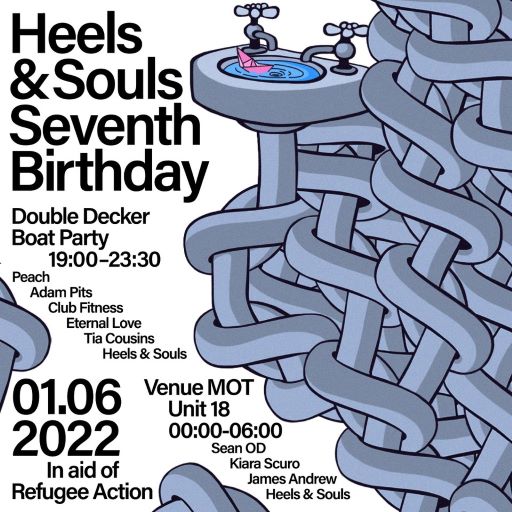 All funds, plus 50% of Resident Advisor's booking fees, will be donated to Refugee Action, a
charity which helps UK refugees rebuild their lives with dignity and support.
Heels & Souls celebrate their 7th birthday on June 1st with a 4-hour party sailing down the Thames,
followed by an afterparty at Bermondsey's Venue MOT Unit 18. To date, Heels & Souls, also a
reissue label and the DJ duo of Ben Croft and Patrick Forrester, have raised over £40,000 for various
causes and this party is surely their most ambitious to date, hiring the legendary Dutch Master
Party Boat to take partygoers on a cruise from Tower Bridge to Blackfriars and then East, finishing in
Greenwich. Suitably, the 3-tiered boat is fitted with a huge Funktion 1 sound system offering two
floors of expertly programmed music, making it the perfect way to kick-off the Queen's Jubilee
celebrations.
Headlining the impressive lower-deck is Toronto native Peach, who's quickly risen to the upper
echelons of underground electronic music following an exquisite Boiler Room a few years back.
She's joined by fellow countrywoman and Corsica Studios resident Club Fitness, plus new additon
and man of the moment Adam Pits. On the middle-deck, Milan DJ duo Eternal Love will be spinning
the finest street soul, reggae and downtempo alongside Tia Cousins and Heels & Souls. The
top-deck meanwhile is completely open-air and offers panoramic views of London from the river.
Disembarking at 23:30 at Greenwich, it's then a short ride to prime afters spot Venue MOT Unit 18,
where the party will continue until 6am with headliners Kiara Scuro, tech-house prodigy James
Andrew, Rinse FM's Sean OD and Heels & Souls joined by a Very Special Guest TBA.
PAtrick Forrester, Heels and Sould co-founder said:
"We're thrilled to celebrate our seventh anniversary with eight of our favourite DJs, across two of
London's most unique spaces. Musically, it feels like a neat summary of many of the sounds we're
into, from soulful downtempo jams all the way to breakneck prog and 90s tech-house. Shouts to
everyone who's been a part of the journey to date."