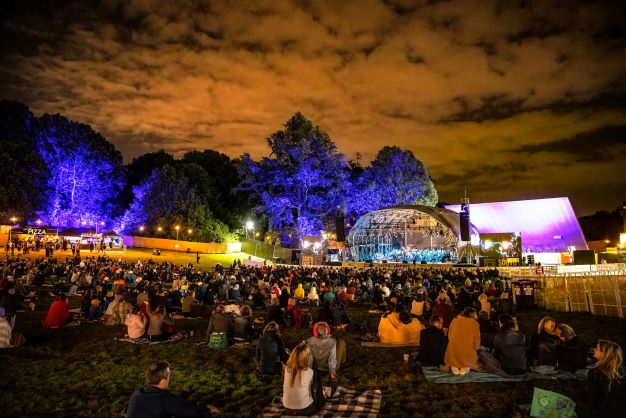 South Facing, the open-air concert series at the lakeside Crystal Palace Bowl, today announces that Oxford's iconic Ride will join Richard Ashcroft for a special all-dayer on Saturday 6 August 2022.
 
From 3pm on Saturday 6 August fans will be treated to an incredible line-up that helped define an era headlined by Richard Ashcroft. With special guests Steve Lamacq, BDRMM, Tess Parks and Alan McGee now joined by Ride, this full-day event is a must for music lovers.
 
Ride, who reunited in 2014, follow the release of their critically acclaimed 'This Is Not a Safe Place' with a string of dates celebrating 30 years since the release of their iconic debut album 'Nowhere'. With classic era defining tracks such as Vapour Trail and Seagull, Ride will perform the classic 1990 album in full.
 
Ride join headliner Richard Ashcroft who first shot to acclaim as frontman in The Verve, one of the most innovative and spellbinding bans on the British pop scene. Following three albums with the band, Richard Ashcroft forged an immensely successful solo career, with all six of his studio albums entering the UK Top 5 album charts, including five UK Top 3 albums and one UK Number 1 album. Fans can expect to hear classics such as 'A Song For The Lovers' and 'Break The Night With Colour', as well the historic hit 'Bittersweet Symphony', which Ashcroft recently re-arranged for his 2021 solo album, 'Acoustic Hymns Vol. 1'.
 
Placed within the breath-taking location of a natural amphitheatre facing a lake, South Facing is a truly innovative concert space with its stage 'floating' on the lake amongst the lush backdrop of one of London's best parks. South Facing is in support of Crystal Palace Park Trust, a registered charitable organisation working to assume management of Crystal Palace Park and lead its regeneration. With a motto of: 'Every penny we raise in the park stays in the park'. They are committed to improving Crystal Palace Park for everyone who uses it, helping make the park one of the best spots in London all year round.
 
The 2022 South Facing open-air concert series includes additional shows from 29 July including London Grammar, Jungle, Bombay Bicycle Club, Kamasi Washington Ezra Collective, Becky Hill and English National Opera.