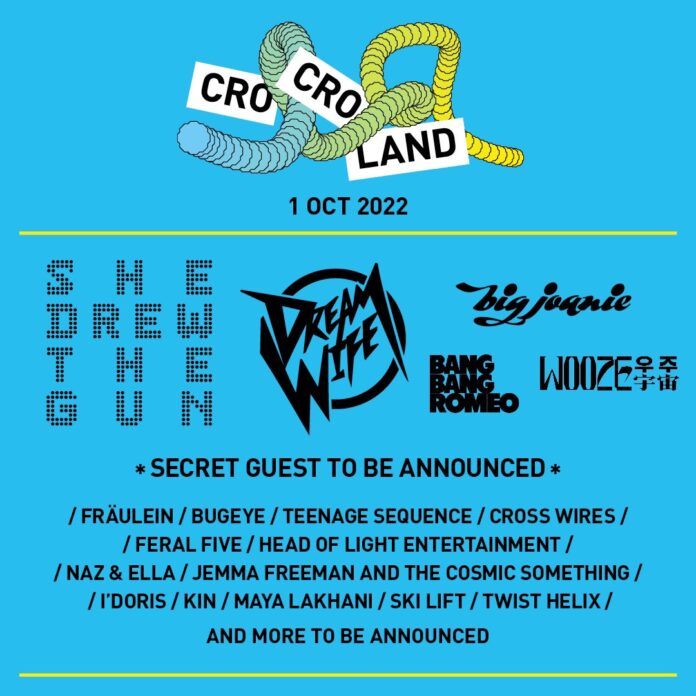 Groundbreaking music festival Cro Cro Land returns after a two-year hiatus to bring its signature mash-up of queer, non-binary, and straight bands to Croydon, with gender equality at its heart. 
Cro Cro Land are proud to be completely gender balanced across stage and crew, and offers a welcoming place for all that come through its doors to party to a soundtrack of the best in alternative music – Cro Cro Land aims to bring guitar music back to the birthplace of punk.
The impressive handpicked line-up is a who's who of the best in indie and alternative music by both established and up-and-coming bands (50% of the bands making up the bill are new artists). Its three stages across Fairfield Halls in Croydon reflect society at large and Cro Cro Land is a gathering of great music and minds because of this. 
Announced today to perform on 1 October are London-based punk rock trio Dream Wife, who will headline The Recreational, a 750-capacity standing live music venue within Fairfield Halls, and hypnotic, psych-pop band She Drew The Gun, who return after playing the inaugural Cro Cro Land in 2019, to headline the 809-seat Ashcroft Theatre stage. 
Other bands announced today include Black feminist punk band Big Joanie, English rock outfit Bang Bang Romeo, experimental alt-rock band Wooze, post-punk pop duo Fraulein, and indie disco 4-piece Bugeye, whose lead singer Angela Martin is also the curator and director of the festival, alongside her partner, The Croydonist editor, Julia Woollams.
Angela Martin says: "After a series of setbacks due to the pandemic, we are so excited to be able to bring Cro Cro Land Festival back to our hometown of Croydon. We have created a line-up that is more reflective of the society we live in, and of the diversity and gender balance that exists in guitar music but still seems to be missing on other bills. This is the first of our line-up announcements and we couldn't be happier with the wealth of talent already in place."
Alongside the musical line-up, Cro Cro Land will again host a mentoring programme for young people interested in working in the music industry, by offering advice and practical support.
On 1 October, South London's Fairfield Halls, situated in Croydon's cultural centre, will host the festival. Croydon has a rich musical history – alumni include; Ray Davies, David Bowie, Malcolm McLaren (Sex Pistols manager), Jamie Reed (artist/creator of all Sex Pistols art work), The Damned, Peter Grant (Manager of Led Zeppelin), Stormzy, and Nadia Rose.
This year, and moving forward, Cro Cro Land has created a diversity board. It has been put in place to ensure that the event stays true to its core values of, not only gender balance, but also fair pay and treatment of all artists, no matter what level they are at in their career, as well as a fair representation of LGBTQ+ and people of colour. 
Cro Cro Land co-founder Julia Woollams says: "Rock music has been seen as very straight male and white, and that really isn't the case. We want to reflect this at our festival because this is actually the make-up of society."
Current board members include the founder of WEIRDO Naz Toorabally; founder and Executive Creative Director of SDS (Setting Da Standard) Makeda Bennett-Amparbeng; Mari Lane of Get In Her Ears; and Co-founder of The Zine UK, Caffy St. Luce.