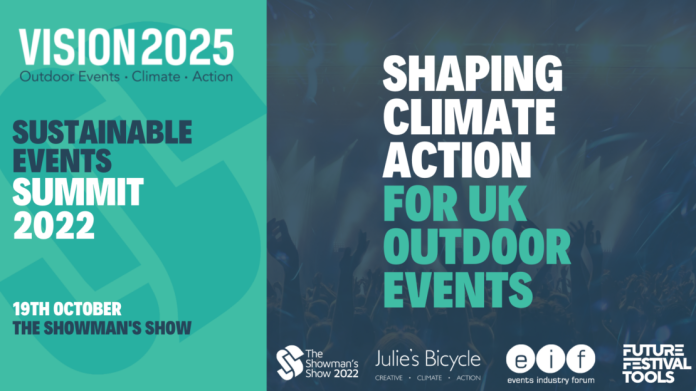 The Showman's Show will host the fifth annual Vision: 2025 conference, with a new title: The Sustainable Events Summit, on Wednesday 19th October 2022, with a free-to-access, expanded programme of talks and interactive sessions.
The Sustainable Events Summit 2022 aims to shape climate action for the UK's outdoor event industry, bringing together event leaders, policy makers, suppliers and experts to exchange ideas and consider future standards, launch new resources, and discover innovations.
PROGRAMME HIGHLIGHTS INCLUDE:
'The Future of Festival Sustainability,' presenting a standardised 'Green Events Code' for delegate feedback, what policies and frameworks are available and exploring how the industry can move forward together.
Julie's Bicycle will present the Future Festival Tools – a set of resources designed by leading organisations across the EU to empower event professionals with green competency, tools and personal certification.
Charity ecolibrium will host 'The Direction of Travel in Live Events,' bringing together a panel of guests to brief delegates on the latest research in cutting travel impacts from suppliers, artist tours and audiences.
The 'No time to Waste: Circular Materials Economy,' session will explore the key findings from The Zero Waste Project's research into challenges and solutions of auditing and reducing festival waste.
'5X5: Innovations of the Season', five suppliers have five minutes to showcase this year's leading sustainable services or products. Plus, the annual Green Supplier Award will return for the Summit's finale, with a panel of judges and audience voting to name the 2022 winner.
The main event (after lunch) is open to all but additionally Vision: 2025 members (those who have taken the Vision: 2025 pledge on behalf of their events) will be invited to an exclusive collaborative morning session with 'Green Leaders' for some valuable insights and innovations. We'll announce more details of this session in September.
 Read more programme highlights and register HERE.