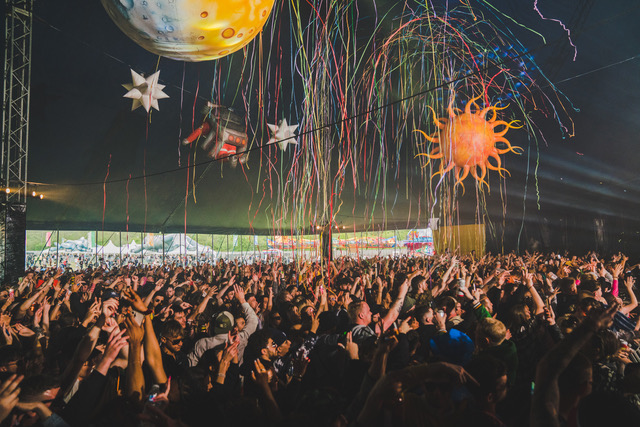 After a much talked about and sold-out event in 2022, Land Beyond is back and bigger than ever from 28th -30th April 2023. 2023 sees the event expanding from one to three days, officially becoming Brighton's first ever camping electronic music festival, as well as doubling the number of stages to six in all.
World-renownedbrands such as DNB All Stars, CruCast, LOCUS!, Disco Disco, Mixtape Madness, Grime Originals and more will be hosting a mouthwatering line-up of international talents.
Last year's Land Beyond was a real triumph in the face of post-Covid adversity. A sold-out crowd packed in and all the worries of the pandemic years were danced away with the likes of Kurupt FM live, SASASAS, Holy Goof, Tion Wayne, ABODE with Solardo and Hannah Wants all serving up standouts sets. The festival takes place at the easy-to-access Waterhall Playing Fields, a wide-open green space that is transformed into an adult playground with epic stage designs and cutting-edge production.
This year, Land Beyond will offer camping for a fulsome experience lasting three epic days. It is the first camping festival to ever be approved in Brighton allowing for an exceptionally comprehensive musical experience from start to finish. The all new camping village will feature glamping tents, street food traders, 'extra-curricular' activities and an exclusive music stage allowing campers to carry on into the early hours.
Land Beyond Organiser, Damien Fell said: "We're delighted to welcome ravers to camp for the weekend at Land Beyond Festival in 2023. We believe it's the first time an electronic music festival has offered camping in Brighton and we're sure it will be a hit with locals and people from across the country alike. As well as announcing our stage hosts today, our weekend camping tickets also go on sale next week. We've got a huge lineup in store for 2023 and that will be released this Autumn."
https://www.landbeyondfestival.co.uk/