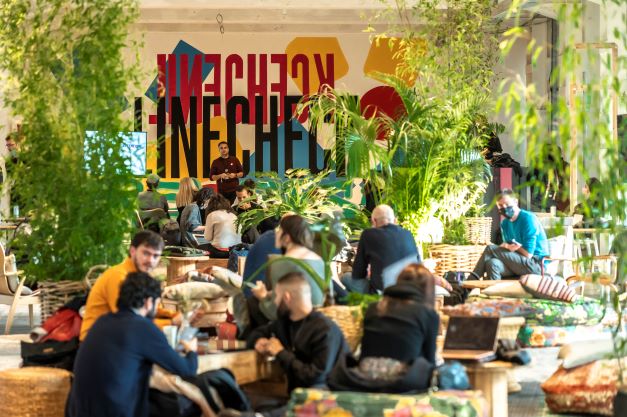 September 29th saw global forward thinking annual music conference and festival Linecheck, announces the first details, line up and program for its 2022 edition, taking place from 23rd November to 26th November at Milan's hybrid centre for culture and creativity BASE.
Acting as a catalyst for change in the music ecosystem, at its eighth edition, the Milan based event has grown to become one of Europe's best new music economy conferences. The music meeting and festival is a celebration of talent, creativity and new ideas. Offering three packed days, with a program that showcases international diversity across over 60 events, including panels, workshops  the day, with over 250 industry speakers and with a genre-blurring mix of over 30 artists from different countries showcasing throughout the night. Linecheck is the ultimate meeting place between professionals and enthusiasts of not just the music sector, but an incubator for dialogues between music, creative, technology and cultural industries, bridging the gaps between Italy, other European countries, the UK and the rest of the world.
The main theme of this eighth edition of the music conference will be #INEXILE, chosen to explore territorial absence, the detachment from metropolitan or local spaces, but also the inability to exercise freedom of movement towards new homelands. For music artists and the overall music ecosystem, exploration is a necessity. Physical spaces are important because they are important sites of cultural production. One doesn't need to be physically removed from the homeland in order to be exiled. Exile can take place in different cultural spaces, especially through processes like colonisation and modernisation.
#INEXILE will resonate across the music meetings, and Linecheck's conference main topics: the main theme Beyond Boundaries will explore territorial borders and Europeanisation, as well as cross-sectoriality, proposing innovation as a way to overcome territorial, mental and technological boundaries. Creators' Rights will focus on creators' rights in all its forms, from Sync in advertising, film and tv, metaverse and web3 to creators' economies, brand activations, metadata done right and the rise of online radio and podcasts. Shared Experiences will explore sustainable events and Green Deal, innovative ways of festivals and tour promotion, NFT and Blockchain in the events industry, Music Cities. Back will also be Linecheck's Matchmaking Sessions, which will connect international delegates to Italian industry experts covering different sectors of the industry through sessions such as Meet The Managers, Meet Label, Distribution & PR and Meet Promoters, Clubs and Festivals.
The first wave of speakers confirmed for the conference are (in alphabetical order) and include leading international and Italian figures: Nathalie Blue – Agent and Producer, NewForm And LittleBig Agency (UK), Andrea Compagnucci – Direttore Marketing e Fundraising, Fondazione Arena di Verona (IT), Chris Cooke – Founder & Managing Director, CMU (UK), Anna Conticello – Project Manager, Desk Italia Europa Creativa, Cultura MIC (IT), Luca De Gennaro – Vice President Talent & Music, Paramount International (IT), Lara Della Gaspera – Creator Partnerships Italy & Spain , Patreon (ES), Lavinia Francia – Executive Creative Director, Ogilvy (IT), Ian Graves – Director, Soundcloud (UK), Flavia Guarino – Venue & Promoter Partnerships Lead, DICE (IT), Charles Kirby-Welch – CEO / Founder, Kartel Music Group – United Kingdom (UK), Markus Linde – Music Supervisor, Europe in Synch / thag's agent (DE), Enzo Mazza – CEO, FIMI (IT), Ritnika Nayan – Managing Director, Downtown India (IN), Silvia Nocentini – CEO / Founder, NoOx Worldwide (IT), Jacopo Pesce – Manager (IT), Michael Perlmutter – Music Supervisor, Canadian Guild of Music Supervisors (CA), Marc Ridet – Director, MR Management (CH), Ferdinando Salzano – CEO, Friends&Partners (IT), Ave Tölpt – Director, Music Estonia (EE), Vlad Yaremchuk – Programming Director, Atlas Festival (UA),
Talking about Linecheck 2022, Dino Lupelli, General Manager of Music Innovation Hub, who coordinates the team working on several large scale projects including Linecheck, says: "The foundation of Linecheck has always been the interplay between national and international, with Milan as a bridge connecting the Mediterranean and Europe. Milan is ideally situated as a meeting point and haven for different cultures". 
Commenting on the conference program Anna Zò, Operations Manager at Linecheck, who is in charge of Innovation, Music/Tech-related activities and European programs says; "Linecheck aims to facilitate new, unexpected conversations, meetings and activities that carry the unique features of the two regions, the strong human element of the Mediterranean cultures and the technological and social innovation driving today's European society". 
Co-funded by the Italian Ministry of Culture as a platform for generational renewal of the Italian music industry, Linecheck is proud to announce the first wave of international partners, projects and delegations, which will include Europe in Synch, HEMI, Swiss Music Export and PUSH – the export accelerator programme for artists based in Italy. Thanks to PUSH which is a joint project of Italia Music Export and Linecheck, an international delegation will be invited to Milan, kindly supported by ITA – Italian Trade Agency (Ministry of Economic Development & Ministry of Foreign Affairs and International Cooperation).
#INEXILE will also translate through this year's live music showcase, Linecheck festival will offer a trailblazing line up with the best of what the emerging Italian and international music scene has to offer. The first artists to be announced are Swiss duo Cyril Cyril – hosted by the iconic Swiss label and record shop Bongo Joe Records, Sicilian artist Marco Castello signed to Italian indie stalwart 42 Records , Crimi, Nziria, Azu Tiwaline, Bawrut, COUCOU CHLOE, La Niña, Mysie and Marina Herlop, with confirmed DJ sets from Ciao! Discoteca Italiana and one of Italy's most interesting new artists Venerus b2b Blinky. The full live program and stage times will be available from Linecheck's website – WWW.LINECHECK.IT.
A series of special daytime showcases will be hosted at La Capsula: a box with clear walls and cutting-edge immersive 3D sound within BASE. Live concerts at La Capsula by invitation only due to very limited capacity. First confirmed showcases are presented by FUGA (Palmaria, Arssalendo, SPZ), Arezzo Wave ready to go (Tamango, Barone Lamberto, Piqued Jacks), Emilia Romagna Music Comm (Lomii, Luca Mazzieri), Ponderosa (Redi Hasa), more to be announced
Linecheck 2022 will open with a special night focused on ambient and experimental electronic music at Auditorium San Fedele – the only venue in Italy with a Acousmonium system, a bespoke spatial sound projection system, perfect to showcase two of the most credible artists within the ambient and electronic scene, American Huerco S and Kenyan KMRU. Tickets for Linecheck opening event are available from Dice.
Linecheck is produced by Music Innovation Hub, the first social enterprise in Italy dedicated to music, and is being co-funded by the Italian Ministry of Culture as a platform for generational renewal of the Italian music industry. Linecheck will once again be the main content partner of Milano Music Week, the annual festival dedicated to music and its key figures, and promoted by The Municipality of Milan – Department of Culture, SIAE (Italian Society of Authors and Publishers) FIMI (Federation of the Italian Music Industry), NUOVOIMAIE (New Mutualist Institute for Performing Artists) and Assomusica (Association of live music shows producers and organisers), will see top industry players coming together to look at the future and discuss plans to help the music industry return to growth.
LINECHECK is the driving force in Italy for KEYCHANGE, the European project for equal opportunities in the music industry. Led by the PRS Foundation, Musikcentrum Ost and Reeperbahn Festival, Keychange is supported by a network of 12 partner festivals from 12 different countries, and aims to provide gender minorities with visibility and representation. Every year, each partner festival selects a handful of artists and innovators from the Keychange network: for 2022, LINECHECK will host the innovators Naoise Roo Callan, Festival Production Manager, Booker and Musician (Ireland), Alayna Hughes, Artist, Technologist and Musician (Spain), Gosia Bego, CEO & Founder of Bego Booking (Poland), Flora Garnier, Project management & international development at Ambiances Ambigues (Canada) and the artists OOPUS (Estonia) and airu (Spain).