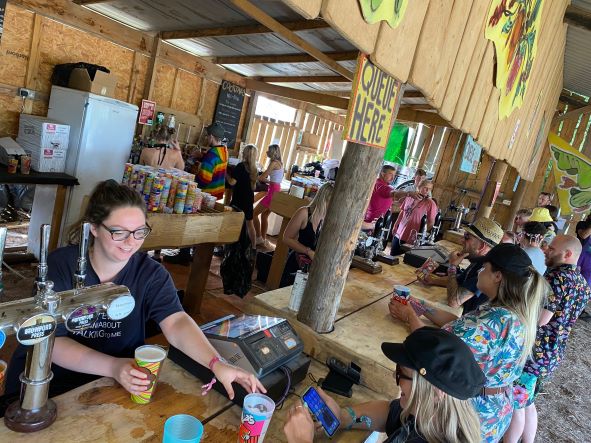 Like the very best of festivals, Nozstock was founded by a fun-loving family and their friends. Known as the 'Hidden Valley', the Nozstock festival has successfully retained its homely, welcoming feel, but the team has now woven it into a delightful amalgamation of performance, art, electronic super-sounds and good old-fashioned guitar-strumming and drum-bashing.
Now an established family event, Nozstock claims to be 'a sonic escape,' boasting eleven stages of entertainment, including theatres, a kid's zone and an array of hospitality areas.
The 2022 festival, which saw 5000 festival goers, included acts from Sister Sledge, Bill Bailey and a host of local artists. Already the planning for next year's event is well underway to be even bigger and better.
With six bars, a canteen for staff, suppliers and artists, a merchandise shop and pay-as -you-go showers, the team at Nozstock knew that the service levels in 2022 really needed to step up.
Julie Nosworthy, company secretary at Nozstock, said: "Coming out of Covid, we really wanted to create an unforgettable festival in 2022, and to grow the offering. This meant adding more bars and hospitality areas, with a greater demand for service and payment functionality.
"We have been working with Lolly since 2019, when the festival was on a much smaller scale. The team at Lolly continually listen to our needs and get their proposition right and this last festival was no exception. Moving from a one to a three-day event was a huge leap, but we felt really confident that Lolly would be able to support this, and they did. They knew exactly what we needed, with team members on-hand during the technology set up and staying locally while the whole event was running."
Lolly implemented 10 Lolly Encore tills and card readers at the Hidden Valley – across the bars, in the canteen, the merchandise shop and pay-as-you-go showers.
Julie adds: "When you run a festival, you spend the whole year planning the event – and you know that you have a really small window to present your offering. There can be no room for error when it comes to that critical time.
"Only one till went down during a power surge at the event, but this was soon rectified. I could not believe how hardy and reliable the tills and card readers were. They were really fit for purpose for the festival, and the team of staff found them very easy to use and intuitive."
Julie and her team make no secret of the fact that they really want to grow Nozstock year-on-year. And they have every intention of taking Lolly with them on their journey. She comments:
"The Lolly products and services are so good, and they have worked so well for us at the festival. The team always go above and beyond, both in the run-up to and during the event. We won't be going anywhere else."