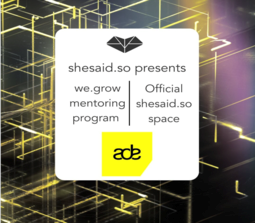 shesaid.so are excited to announce that it will return to Amsterdam in 2022 as part of an official partnership with ADE that includes two Pro talks, a mentoring program and the official shesaid.so space at ADE in partnership with Zora and hosted at Lynk & Co's flagship Amsterdam club.
shesaid.so has been working with ADE since 2017 with a focus on programming around diversity and inclusion in the music industry.  In 2019 she said.so took our partnership to the next level and introduced she.grows at ADE – a mini-mentoring program that paired 10 senior-level members from the shesaid.so community with mentees selected by ADE University. The scheme included an open call, mentor/mentee matching & training, workshops, networking and a DJ showcase.
In 2022 shesaid.so are working even more closely together to bring back the mentoring program, curate talks as part of ADE Pro, and introduce a shesaid.so space as part of the ADE Lab track – hosted by Lynk & Co and in partnership with ZORA.
The shesaid.so space at ADE 2022 hosted by Lynk & Co will feature a full day of programming on Friday October 21st, including activities related to the mentorship scheme, as well as public facing talks, networking and music.
"Our goal is to create an inclusive environment where our global community attending ADE can connect with one another and other industry professionals, in addition to learning. The program will reflect some of the most ardent topics from the shesaid.so world – including diversity & inclusion as well as more industry-facing discussions." says founder Andreea Magdalina
Last but not least, the space will highlight initiatives and creatives curated from the community and provide promotional opportunities for showcasing talent.