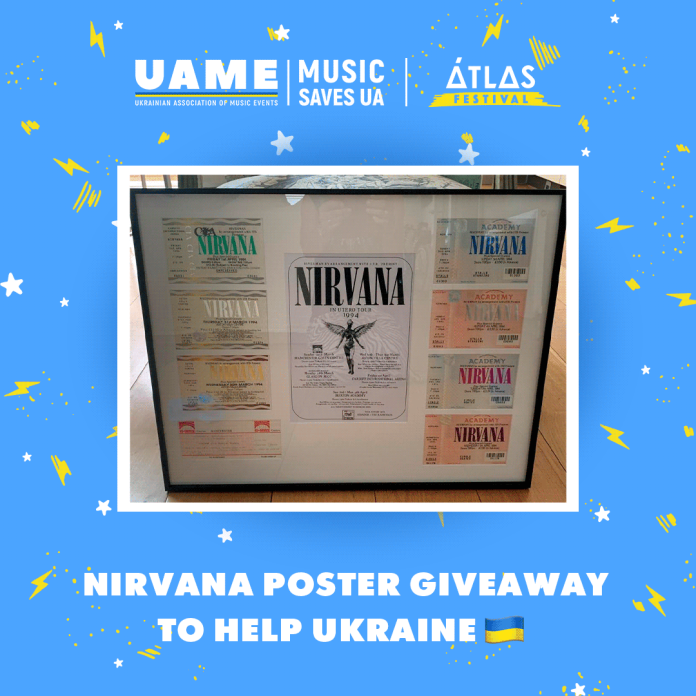 In partnership with the initiative Music Saves UA founded by the Ukrainian Association of Music Events (UAME), the biggest music festival in Ukraine – Atlas Festival has created a raffle t help fund the humanitarian needs of Ukrainian victims of the Russian invasion.
The main prize is a Nirvana lot consisting of an exclusive framed poster and tickets for each show of the Nirvana "In Utero" UK tour of 1994 that never happened due to the death of Kurt Cobain. The item was provided by Riverman Management, who were the organizers of the tour at that time.
A donation of any amount starting from 10 EUR/USD/GBP gets a chance to win an exclusive lot.  All funds collected from the draw will be transferred to Music Saves UA initiative and will be spent on the evacuation of Ukrainian civilians from hotspots and frontline territories.Ta date,  Music Saves UA evacuated more than 20000 civilians, Atlas Festival hopes that, with your help, it will be thousands more. The 10 EUR/USD/GBP entry price was not chosen randomly as it roughly equals the cost of evacuating one person. You can donate multiple times to increase your chances.
The winner will be announced on October 26th on Atlas festival social pages.
Donate here: https://pay.fondy.eu/s/tpK0Y9NWD91E
Donate here in UAH: https://send.monobank.ua/jar/2WbBTe8FXz
Follow Atlas Festival for more information:
https://www.instagram.com/
https://www.facebook.com/atlas.festival.ua
Music Saves UA: https://musicsavesua.com/