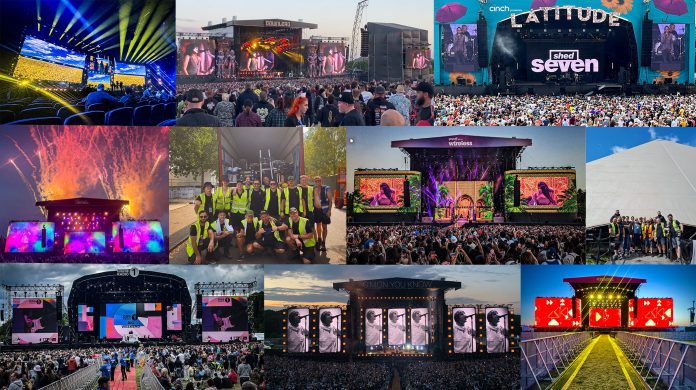 With a full-on return, working on a multitude of the UK's largest and most popular major outdoor music events and festivals this summer has been no small feat. For CTUK it has been no different to any other supplier, it has taken a hard-working and dedicated team of skilled people to make it all happen. The success of these events wouldn't be possible without the incredible team behind the technology.
MAY marked the start of festival season for Creative Technology's audio team with the return of The Great Escape Festival, followed by BBC Radio 1's Big Weekend in Coventry, delivering LED main screens along with LED columns and a DJ Riser.
JUNE saw some incredible outside live music events come to fruition, with a particular highlight being Liam Gallagher – Knebworth Park, where CT were proud to provide large I-mag screens and a control package for the singer's largest solo gig to date – 26 years on from his show as part of Oasis back in 1996 where CT supplied LED screens, OB vans and cameras.
The audio team headed to Red Rooster Festival in the heart of Suffolk, while the video team prepared for the British-created rock festival, Download, where I-mags and FOH screens were supplied – shortly followed by the long-awaited return of Glastonbury Festival. Creative Technology proudly supported three of the world-famous festival's main stages including the renowned Pyramid Stage. On top of this, CT also supplied 30k laser projectors and media servers for the IICON Stage, creating a visual spectacular that successfully entertained the large crowds that gathered there night after night.
Shortly after, CT headed to Marlay Park in Dublin to deliver three outstanding gigs; Green Day, Guns N' Roses, and Red Hot Chili Peppers – providing curved LED screens, playback and camera package to the sold-out shows that had been on hold for three years, with eager fans elated to be back enjoying live music once again.
JULY started with Longitude Festival taking place in Dublin while simultaneously the first of three Wireless Festivals happened in Crystal Palace Park, followed by the Finsbury Park and NEC, Birmingham events later in the month.
The Royal Philharmonic Orchestra took to the same stage in Crystal Palace Park to deliver 'Music From The Movies' – where the audience could experience all their film favourites at this unique outdoor live music event.
CT were back for a 3rd time to deliver the First Major League Baseball Home Run Derby X – an electrifying new baseball format complete with amazing live music and interactive baseball-inspired activities. Following the same stage set up as Wireless in a different area of the park, the site was brought to life with exciting live sport like it has never been seen before! CT also provided via group company, OBS TV, an OB truck and streaming services for broadcast to the official MLB website.
CT returned to Finsbury Park for three consecutive one-off shows: Sam Fender, Community Festival, and George Ezra – each bringing huge crowds to the grounds for three evenings of incredible live music and an electric atmosphere.
To round up this month, CT supplied audio and video for both the main and BBC Sounds stage at Latitude Festival in Henham Park, Suffolk.
AUGUST brought the audio team to Wilderness Festival, followed by the ever-popular Reading and Leeds festivals that took place simultaneously later in the month. Once again showcasing a large-scale audio delivery and the award-winning, huge curved I-mags across four main stages, providing a total of over 1850 sqm of LED to create four identical stages across two festival sites.
SEPTEMBER wrapped up festival season on-site in Ireland at Electric Picnic – providing a full package of LED including curved I-mags, Upstage, and FOH as well as cameras to capture all the talent on stage.
"I could not be more proud of what we have collectively achieved during this festival season. A tremendous amount of hard work, early mornings, and late nights went into delivering these incredible events and none of them would have been possible without the people behind the technology. Thank you to the dedicated team at CT, our skilled freelancers, and our clients who trust us to bring to life the best live outdoor music events year after year." – Graham Miller, Head of Music/Entertainment at Creative Technology UK.