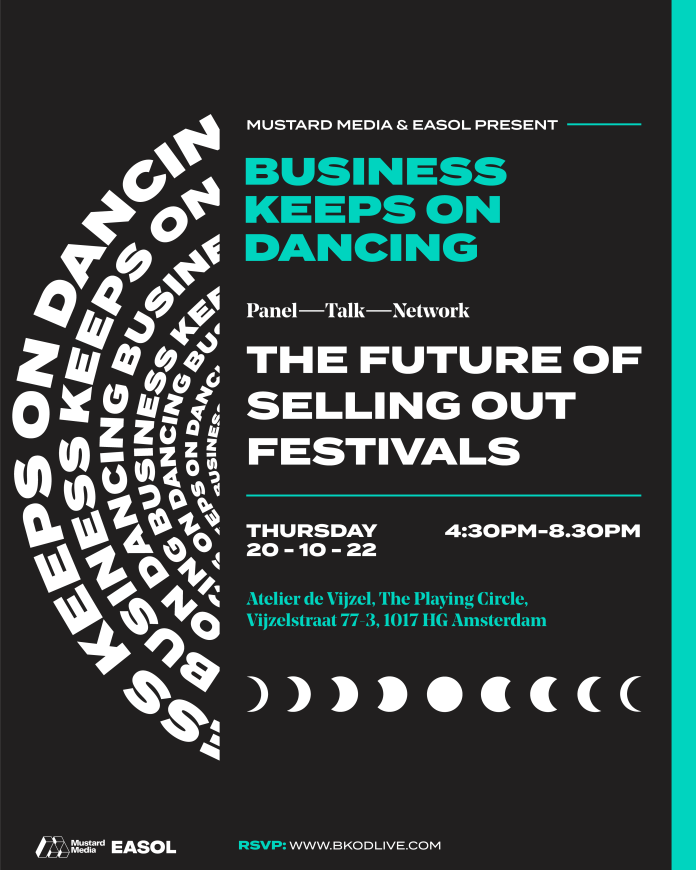 Mustard Media, the award-winning festival and events marketing agency, and Easol, the game-changing experience commerce platform, have joined forces to curate an afternoon of panel discussions to share insights and learnings from 2022 and plan for success in 2023.
Experts from Mustard Media and Easol will be speaking, as well as representatives from elrow, Afro Nation, Rolling Loud, Defected, AMP Lost & Found, Sonus, Exit, Fly Events and more.
Discussions will focus on reflecting on 2022, and how to plan for success in 2023.
Panels will explore paid media strategy, budget management, marketing tactics and ticket-selling strategies. With industry experts sharing their experiences, insights and actionable tactics for guests to take away.
The event will take place on  Thursday 20th October,  4.30pm-8.30 pm, at The Playing Circle, Atelier De Vijzel, The Playing Circle, Vijzelstraat 77-3, 1017 HG Amsterdam.
Business Keeps on Dancing launched in 2019, an initiative set up by Mustard Media, as a way to connect industry leaders to share their secrets to success and build a community of music and event professionals. Business Keeps on Dancing has hosted panels at AVA Festival in London, The Night Time Economy Summit in partnership with the NTIA and has also launched a podcast, which was recently named as Music Week's podcast of the month.
This is the first event hosted in partnership with Easol.
Ed Norris, Co-founder of Mustard Media and Business Keeps on Dancing said "Following the success of our first panel event in Amsterdam in 2019, we knew we had to return. This year we've stepped it up a level, with a bigger venue, more speakers, and of course our partnership with Easol. We're really excited to bring everyone together to share their insights and experiences. We're passionate about supporting our industry and our peers and can't wait to see our curated panels come to life."
Ben Simpson co-founder of Easol said, "We are delighted to collaborate with Mustard Media on this event, which will be a chance to knowledge share with our friends and peers. Our amazing team has been at hard at work building a toolkit to empower for festival organisers, unveiled at our recent Showcase, and I can't wait to go deeper on this at our event in Amsterdam "