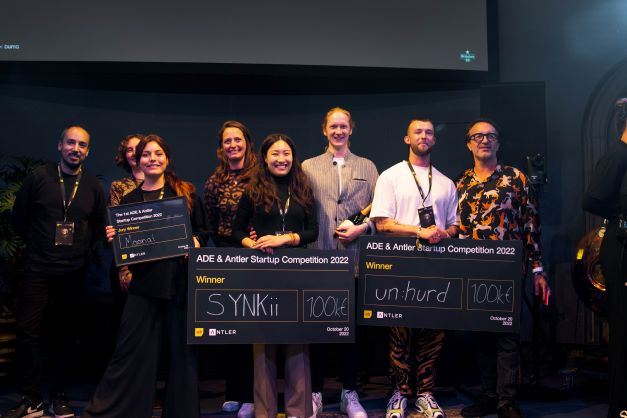 Recently, at the grande finale for the Amsterdam Dance Event (ADE) & Antler Startup Competition the winners were announced: Un:hurd and SYNKii. As the main prize both of these companies will raise €100k investment from the global early-stage investor, Antler. The jury also gave out a Jury Prize for Moonai who by winning gets an important role in a new startup community and an opportunity to organize a panel around their business during ADE 2023.
Music marketing solution Un:hurd was founded in 2019 by Alex Brees. Un:hurd provides a comprehensive solution for artists to promote their music on various social and music platforms bringing a data-focused approach to music marketing. His personal background in the music industry has proven to give a thorough understanding of the space and remarkable expertise to make the company grow on the market. To this date, Un:hurd has already been able to show significant traction and as the company is in a highly growing market there is lots of room to grow the company into big business pivoting to new customer segments.
Music teaching platform SYNKii was founded in 2020 by Boram Choi and Lawrence Jenner.
Their platform is a game-changer for online music education easing the communication
between the student and the teacher. They redesigned the way we learn instruments through
web-based personalized learning and one-to-one sessions with tutors bringing student's personal development to the center of learning. Already today the platform stands out as the
best alternative out there and it too has a lot of room to grow in the huge global market of music education. The background of the team is in music teaching and they have managed to turn that knowledge into a highly sophisticated product.
Overall, the Competition received more than 100 applications from startups from all over the
world promoting their creative solutions in music and entertainment tech. All applicants were
evaluated based on six attributes: innovation, team, scalability, product, traction and market.
Today the six finalists came to Amsterdam for the Final, with startups from South Korea, the UK, Germany and Spain competing against home-grown talent in the Netherlands. They are
introducing solutions in hardware and software, tools for artists, for agencies, for musicians and all the party people out there.
"The music and entertainment industry is undergoing a protracted wave of disruption due to the opportunities provided by new technologies. This competition has been a unique opportunity for us to deep dive into the current state of technology in this market and what is coming next, in partnership with a top industry player like the Amsterdam Dance Event.", says Youri Doeleman, Partner at Antler. "While in the applicants we saw some startups with technologies like NFT and Web3, from the finalists you can see that AI is currently leading the pack as the most promising technology across the music tech scene. All of today's finalists are driving leaps forward in their respective domains."