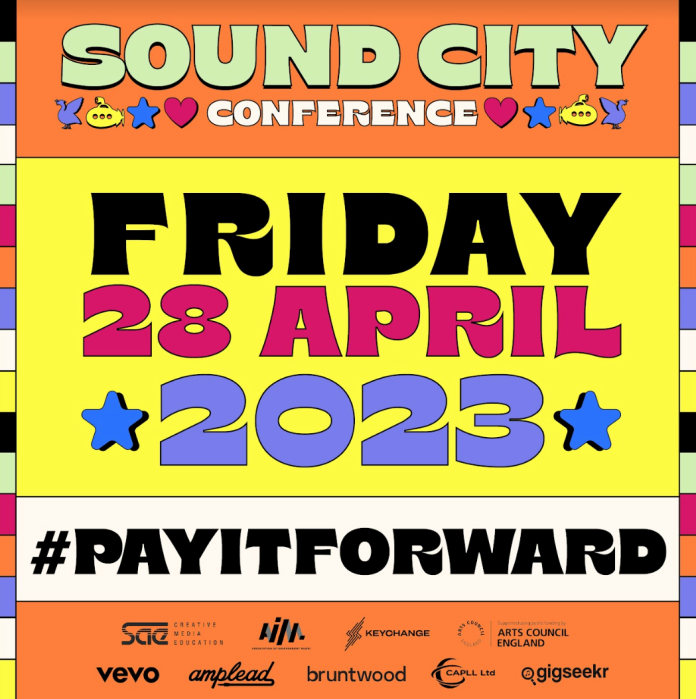 UK Festival Awards finalists, Sound City Festival has announced details of its brand new 'Pay It Forward' initiative, as tickets for the Sound City Conference go on sale. Proudly the UK's independent conference for new music, Sound City welcomes the global music industry and budding next generation of young creatives to the North of England. Now, Sound City is calling on industry leaders and businesses to do their bit to create opportunity and open doors for the next generation at the click of a button. This industry-encompassing call to action comes as part of Sound City's continued and longstanding commitment to bringing through the next wave of professional talent, which has gone on to create multiple permanent roles within the festival's core team.
Association of Independent Music (AIM) will be back once again at Sound City next year to co-curate the conference in what will be AIM's lead event in the north in 2023, with speakers and panels set to be revealed early 2023.
Paul Pacifico, CEO of AIM said, "We are very proud to have renewed and further develop our partnership with Liverpool Sound City as AIM's 'conference in the North'.  Our organisations are deeply aligned on supporting the growth of ethical creative careers and businesses in music as exemplified by their 'pay it forward' programme. The music industry in the UK remains very London-centric, but AIM is a UK-wide organisation with members everywhere. Our partnership with Liverpool Sound City is an important part of our commitment to level the playing field, to be present and to serve our members wherever they are in the regions and devolved nations."
PAY IT FORWARD
Sound City is calling on all of its music industry peers to Pay It Forward. The industry is today urged to come together to trigger positive change by supporting the vital next generation of young creatives and aspiring professionals. By adding a small additional fee when purchasing Sound City Conference tickets, businesses and industry professionals will be able to offer disadvantaged young people from the North-West the chance to attend the Sound City conference; talented young creatives with a big contribution to make who otherwise may miss out. The music industry is kept alive by industry leaders paving the way for the next wave, sharing knowledge and holding the door open for young people, regardless of their backgrounds so they can achieve their full potential, and keep the creative industries thriving. The industry needs its leaders to step up to help shape a positive future and keep the creative world diverse, innovative and thriving. Imagine if someone had done it for you. For more information, please visit https://plus.soundcity.uk.com/.
Sound City is delighted to confirm scotts Menswear, Tessuti, Bruntwood, AIM, Amplead, Gigseekr,  Tunecore and CAPLL as partners for Pay It Forward, early adopters of the scheme who have already pledged their support to allow for young people to attend  the Sound City Conference 2023.
Paul Ramsdale, Marketing Manager, scotts and Tessuti said, "scotts and Tessuti are proud to support Sound City's Pay it Forward scheme and to help young people across the North into their first steps in the music industry.  Keeping creativity alive through developing the next generation of talent is at the heart of what we do."
Sarah Wilson is Head of Tunecore UK/Ireland/Canada/Aus/NZ said, "Today's music industry demands, and deserves, a range of diverse viewpoints to fuel our evolution. We need to see more varied representation in gender, income, class and from the deaf/disabled community to foster global talent in our sector. That's why Tunecore is getting behind Sound City's Pay It Forward scheme."
How Sound City "Pays It Forward": –
Sound City has a long history of "Paying It Forward", with the Conference itself the focal point for the company's continuous commitment to bringing through the next generation of North West creative and professional talent. It is a place where all of the beneficiaries of Sound City's philanthropic projects come together to take the next steps into the wider industry. Since 2019 over 1,600 young people have been reached through Sound City's wide-ranging educational initiatives (such as Launch Training, Artist Development Programme and Rip It Up). Over 220 masterclasses have been given, almost 300 mentorship hours, and 146 students aged 16-24 graduated from their 10 week Launch Training programme.
Sound City's commitment to Pay It Forward is best demonstrated by its own staff. Nine members of Sound City's core team have come through the festival's internships, educational initiatives and volunteering, landing permanent roles in-house, in marketing, operations, finance, sponsorship and more, including B2B & Education Event Manager Holly Jones.
Holly said, "Sound City is a festival with real heart and a passion for creating careers and offering opportunities to future leaders and creatives in the north west. We're one independent company in the North, which is driving the next wave of young industry talent – whether that's providing satellite versions of Sound City to school children, or the industry-leading Sound City Launch training course which educates, inspires and propels young people into long-lasting careers in music, Sound City remains the innovator and trailblazer for opening doors and paving the way for the next gen. Myself and many of my colleagues are in our current roles thanks to opportunities just like this – and thanks to Sound City practising what it preaches. Pay It Forward is the next step, an industry-wide call-to-action – let's all join together and do our bit so that the brightest young minds can take their first steps into the industry at Sound City next year."
Pay It Forward joins Sound City's forward-thinking, industry-leading portfolio of initiatives, created to help young people in the North West to learn, innovate and build their futures within the music industry: –
Sound City's call on the wider industry to Pay It Forward comes as details are revealed for the Sound City Satellite Music Hubs. Expanding the company's outreach to a most grassroots level,  Sound City Satellite is a series of 6 events taking place in each borough of Merseyside over the course of 18 months that will deliver a day of masterclasses and training  to 14-16 year olds, opening eyes to the wide-ranging opportunities within the music industry and laying the foundations for a sustainable culture within the City Region.
The latest iteration of Sound City Satellite comes to Warrington on 25 November 2022. A day of sessions led by industry experts will be rounded off by a special live performance from Manchester indie outfit Delights, who'll be live at Sound City next April. Speakers include Eve Horne (PeakMusicUK), Suki Pardesi (Royal Northern College of Music), BBT, Esme O'Keefe (Modern Sky), Yaw Owusu (The Playmaker Group), Gary Cook (City of Liverpool College / Sound City), Melanie Williams (Uni of Liverpool / Sound City), Kojo Osei (BIMM) with careers fair including: SAE, River Reeves Foundation, Musicians Union, The Studio Widnes and Modern Sky. Sound City Satellite takes place across the Liverpool City Region, delivering a focussed conference, live programme of activity and training for 14-16 year olds, as part of the Merseyside Music Education Hub Alliance (MMEHA).
Plus, Sound City this month also introduces a new 14-week Hidden Music Histories programme, designed to educate the next generation of aspiring creatives on the defining musical moments that have allowed Liverpool (a UNESCO world music city) to thrive, while formulating an idea of how attendees can help shape the cultural trajectory of Merseyside and play a key part in the region's creative future. Free to attend, applications are available for ages 16-24 and open on 25 November via soundcity.uk.com..
SOUND CITY CONFERENCE TICKETS
Sound City Conference, taking place on Friday 28 April 2023 at venues across Liverpool City Centre including FACT, Phase One, Leaf and The Jacaranda, was founded to champion the rich and diverse creative output of the North of England, while welcoming and celebrating exciting artists and leading executives from all over the world, every year. Tickets are on sale via www.soundcity.uk.com.
Conference Only Ticket: £79.50
New Music Friday Ticket (access to Conference & New Music Friday showcases): £94.50
Conference, New Music Friday & Festival Package (as above plus full VIP access to festival): £129.50 (plus booking fee)
Pay It Forward Ticket: £49.50
SOUND CITY FESTIVAL
Sound City Festival is the must-attend celebration of music discovery, and undisputedly the UK's independent festival for new music, headlined this year by Maisie Peters. Kicking off the festival season with a plethora of the most exciting emerging acts spanning a multitude of genres, Sound City delivers the ultimate festival to discover the sounds of the future. Welcoming music loving attendees and artists from across the UK and the world over, Sound City takes place in its Liverpool home, a city with a buzzing live music scene and a rich musical heritage. In what's set to be a bumper year for Liverpool, which has been hand-picked to host the Eurovision Song Contest, Sound City runs from 28-30 April 2023.