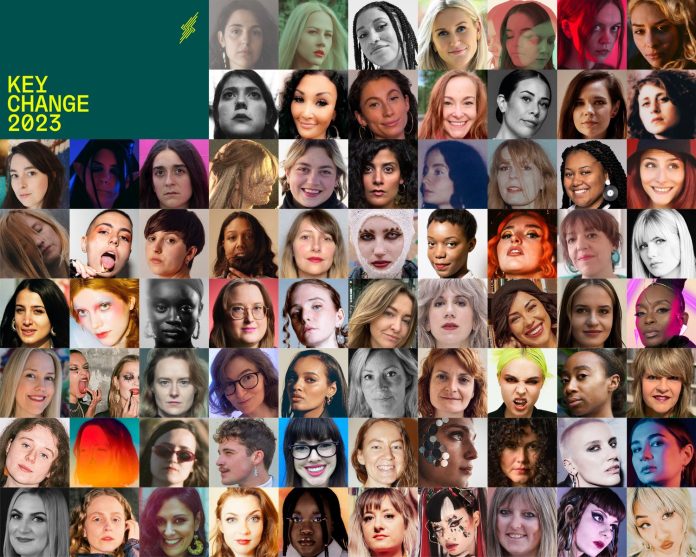 Recently Keychange, the pioneering international initiative for gender equity in the music industry, welcomed 74 new participants to its 2023 Talent Development Programme.
Bringing together a multitude of different skills and networks through the Keychange Pledge and Talent Development Programme, Keychange offers a unique ecosystem with international collaboration at its heart.
Selected by industry and export specialists as future leaders, the newly announced participants mark the third cohort of artists and music industry professionals from 12 countries across Europe and Canada to take part in a year-long programme. It follows a highly competitive open call that received 830 applications.
Keychange introduces the 74 new participants: 
CANADA: (Artists) The Garrys, Desiree Dawson, Liza, Meisha and The Spanks
(Innovators) Roxanne Lemieux, Kingsley Swim, Nancy Lee, Gaby Gauthier-Durand
ESTONIA: (Artists) Maris Pihlap, Manna, Bedless Bones
(Innovators): Iti Teder, Tanya Korenik, Paula Hakkaja
FRANCE: (Artists) BRÖ, TOLVY, Poundo
(Innovators) Cecilia Pietrzko, Gina Périer, Lola Levant
GERMANY: (Artists) Lucy Kruger & The Lost Boys, Gloria de Oliviera, Ava Vegas
(Innovators): Katie Wellenberg, Sarah Jane Nicholson, Amande Dagod
ICELAND: (Artists) CYBER, Jelena Ciric, MSEA
(Innovators) Josie Anne Gaitens, Lama-sea Dear, Inga Magnes Weisshappel
ITALY: (Artists) IRuna, Claudym, Queen of Saba
(Innovators): Margherita Devalle, Alice Salvalai, Marika Lelario
NORWAY: (Artists): Moyka, Maud, KAMARA
(Innovators): Maria Bringsjord, Dana Jdid, Inger Braten
POLAND: (Artists) Izzy and the Black Trees, Agata Karczewska, Iza Smelczynska
(Innovators) Magda Jedrzejewska, Anna Klimczak, Urszula Nowak
REPUBLIC OF IRELAND: (Artists): Pastiche, Tolü Makay, Katie Phelan
(Innovators): Bekah Molony, Maya Cullen Petrovic, Mags Blackburn
SPAIN: (Artists): The Crab Apples, Gela, SUNESIS
(Innovators): Esther Cid, Grace Puluczek, Mabel Alonso
SWEDEN: (Artists) Aasma, Felin, Kristina Issa
(Innovators) Naomi Wood, Sorrel Salb, Jonna Eve Eriksson
UK: (Artists): Halina Rice, Pyra, Freddie Lewis
(Innovators): Michelle Kambasha, NIKS, Saskhia Menendez
Listen to the Keychange 2023 artist playlists here on SoundCloud and Spotify.
Find out more about each of the 2023 artists and innovators on the Keychange website here, which serves as a rich resource of fresh international talent for festivals, venues and beyond.
Keychange say that they are proud to support exciting, diverse talent through the programme, as it continues to represent a broad range of music genres, sub-sectors and artists and professionals from diverse backgrounds. Its inclusive approach aims to tackle complex intersectional barriers and within the latest cohort where participants responded to diversity and inclusion monitoring questions: 51.7% identify as LGBTQIA+; 9.5% of participants identify as gender expansive (non-binary, gender queer, gender fluid and other minority gender identities);  and 27.3% belong to racially marginalised communities within their countries. Keychange partners are also proud to offer additional access and childcare support to a number of selected participants and encourages others in the sector to help tackle such barriers to inclusion.