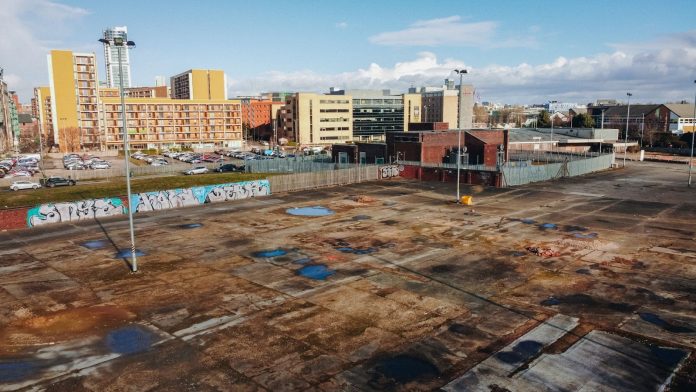 Moda Living in partnership with New Citizens is launching a dedicated new event space in Leeds. This 103,000sqft venue will be the largest open-air events space in the city centre and will play host to music, sports, cultural and arts events. It is the first development in the site's plans to become a vibrant new city centre neighbourhood, with a mix of uses and public realm, transforming it into an outstanding new area of Leeds.
Canvas Yard's first event will kick off in April, with a stellar line up of events including FAC51 Hacienda Open Air on 30th April and the legendary The Garden Party on 27 and 28th May. FAC51 Hacienda Open Air, featuring Roger Sanchez, Dimitri from Paris, Todd Terry, Derrick Carter and Graeme Parker, was announced last year and has already sold out.
Moda Living and New Citizens, the team behind the renowned Chow Down and Canal Mills, first joined forces in 2022, following an introduction by Leeds City Council. Working with the council, friends, and partners across the city they transformed the disused city centre site and car park into Leeds' first festival of the season. The Garden Party was a sell out as some of the world's most renowned DJs, including Denis Sulta, Derrick Carter, Eats Everything, Ewan McVicar, HAAi, Hot Since 82, Jon Hopkins, Maribou State, Mella Dee, Prospa, Skream and TSHA attracted partygoers from all over the UK. This year's event will be announced shortly as part of a new series of events held at Canvas Yard.and is again expected to sell out quickly.
Moda Living is the UK's leading creator and operator of rental communities that does things differently, with a pipeline of 20,000 homes worth a combined £6.5bn across the UK. Built on its core brand foundations of customer service, ESG, health and wellbeing and technology, Moda's portfolio of largescale neighbourhoods and range of accommodation products and price points is pioneering positive change in the rental landscape across the country at a much-needed time. Last year Moda opened its first Leeds neighbourhood, Moda, New York Square, bringing 515 state-of-the-art new homes to the city.
New Citizens are creative specialists focusing on projects within the music, events and hospitality sectors throughout the UK, attracting over 100,000 attendees per year to their events.
Lydia Eustace, Marketing Director at Moda, said: "The success of last year's The Garden Party demonstrated a great working partnership and one we were keen to develop. The potential at Canvas Yard is enormous, from health and wellbeing, fitness and sports events to music festivals, art exhibitions, and everything in between – we can't wait for the event programme that will come forward at Canvas Yard. New Citizens share the Moda ethos of well-being and community and so it's fantastic that we can announce the launch of Canvas Yard in association with them."
Matt Long, Director at New Citizens, said: "We are delighted to be building on our relationship with Moda Living following the success of our 2022 event. The partnership and launch of Canvas Yard will fill a gap in the Leeds cultural landscape providing a space for creativity across, music, arts, film and TV sectors."
Based adjacent to Holbeck Village at City One, Canvas Yard is a short walk from the Leeds train station, giving it the unique benefit of being able to offer large scale outdoor events in the city centre.