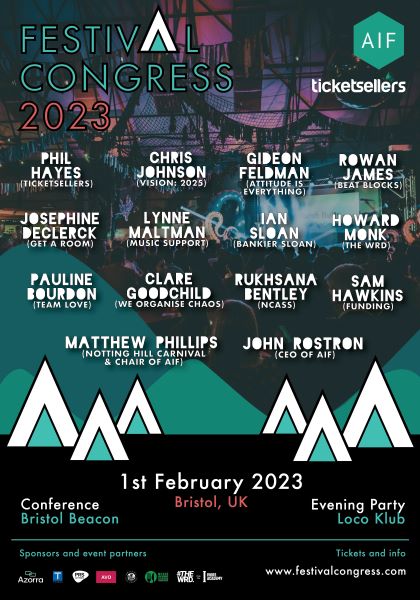 Festival Congress will return to Bristol on February 1, with tickets now on sale. This year will see Festival Congress move to Bristol Beacon – a larger venue following 2022's sell-out event.
Produced by AIF, Festival Congress brings member festivals and carnivals, as well as other independent festival professionals and event operators from across the UK, to meet, exchange ideas and gain insights from speakers representing a broad range of respected companies.
The conference will cover a number of important topics for festival organisers via a combination of to the point Lightning Talks and extended workshops, kicked off by a presentation from Ticketsellers CEO Phil Hayes discussing the effects of the cost of living crisis on ticket buying habits.
Other topics covered by the programme include sustainability, crowd management, technology and disability, business rates in 2023, tips for accessing funding for festivals and much more.
Alongside Hayes, other speakers at this year's event include Chris Johnson (Vision: 2025), Gideon Feldman (Attitude Is Everything), Rowan James (Beat Blocks), Josephine Declerck (Get A Room), Lynne Maltman (Music Support), Ian Sloan (Bankier Sloan), Howard Monk (The WRD) and Pauline Bourdon (Team Love).
The event will be opened with an address from Matthew Phillip of Notting Hill Carnival and current AIF Chair.
The conference will be followed by an after-party at Bristol's Loco Klub, and will include dedicated networking time until 9pm followed by a silent disco ,with light installations from sculptural lighting artist Jack Wimperis and a flooring installation from Beat Blocks.
AIF CEO John Rostron said: "We're delighted to reveal the full programme for this year's Festival Congress. It's one of my favourite days of the year  – a brilliant moment where so many people involved in presenting and running festivals (or keen to start up their own festival) get together for one long day of learning, listening, sharing and networking. I'm looking forward to a really productive time back in Bristol."