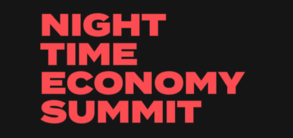 The NTIA has released the full programme for the Night Time Economy Summit hosted at E1 London. This second in the series of conferences focused on Night Time Economy across the UK has an ambitious programme of speakers and panelists approaching a huge range of topics from Brexit, Diversity, Harm Reduction, Safeguarding, Women's Safety, Health, Well Being, Access to Funding, Licensing & Planning, Supply Chain Energy, Cost of Living Crisis, Mental Health, Live Music, Grass Roots Music, Events plus much much more.
The two day event will include over 120 speakers with panels and workshops featuring innovators and entrepreneurs from across the sector including; Harvey Goldsmith CBE,, Irvine Welsh (Author) Mirik Milan (Vibe Lab/ Former Night Czar Amsterdam), Sacha Lord (Greater Manchester Night Time Economy Advisor), Katy Porter (The Loop) Annabella Coldrick (MMF) David Martin (FAC) Claire O'Neill (AGF) Danny Howard (Radio 1 DJ) , Sunil Sharpe (DJ & Artist) Shain Shapiro (Sound Diplomacy) Stephen Wheatley (World Health Organisation) Jamie Njoku Goodwin (UK Music) Kevin Brennan MP (APPG for Music) Charlie Tee (DJ & Artist) Suzanne Bull (Attitude is Everything) Adam Ficek (Babshambles / Tonic) Silvia Montello (AIM) Carly Heath (Bristol Night Time Economy Advisor) John Drury (National Arena Association) Ross Carter (DrinksTrust) Mark Davyd (Music Venue Trust) Yousef (Circus) Lawrence Barton (NTE Advisor Birmingham City), Jess Bays (DJ & Artist) Dave Webster (Musicians Union) Jon Collins (LIVE) Peter Heath (WeMakeEvents) Wez Saunders (Defected) Philip Kolvin KC (Barrister) Turno (DJ & Artist) and Lutz Leichsenring (Vibe Lab).
View full schedule of speakers and panelists here: https://nighttimeeconomysummit.com
Says NTIA CEO Michael Kill:
"The upcoming London The Night Time Economy Summit is one of our most ambitious projects and it's extremely exciting to bring together some of the biggest names in the industry for the summit, with panels discussing and debating positive change, as well as some of the more immediate challenges."
"It is also an opportunity to benchmark the current state of the industry through data, allowing us to reflect, debate and share ideas and best practices in developing, educating and building towards a safer and successful night time economy in the future."
The NTIA will also be announcing several key partnerships during the conference, with one of the key strategic partnerships being established with the World Health Organisation as part of the "Make Listening Safe" Campaign, looking at driving an educational message through to the industry in hearing protection. The campaign is part of a wider initiative by WHO and Worldwide partners which will be discussed at the conference in line with Tinnitus Week with WHO representatives Steve Wheatley and Consultant Audiologist Robert Shepheard alongside Biff Mitchell (Beautiful Days) & Lindsay McIntyre (KSG Acoustics).
Also being announced is the the UK Partnership between DJ Monitor & NTIA, which will see the rollout of new cutting edge technology to ensure transparency and fair remuneration for music rights holders through integrated Music Recognition Technology.
Exclusive UK Benchmark Reports on Night Time Economy & Electronic Music will be released at the summit, with expert panelists discussing the current impacts and the true economic, community and cultural value within the current UK marketplace.
The UK Night Time Economy Report will benchmark the economic position of the NTE sector, through the lens of Out of Home Leisure Experience as well as night time culture economy. Updating current workforce numbers and evaluating the impact of the current crisis to the sector business types in conjunction with CGA Neilson.
The UK Electronic Music Report is the first of its kind, in conjunction with Audience Strategies we will work towards demonstrating the true economic, community and cultural value of the electronic music sector within the UK. This will form part of a submission to DCMS and a broader piece of annual reporting which will allow us to evaluate the current market movements in terms of counter culture.