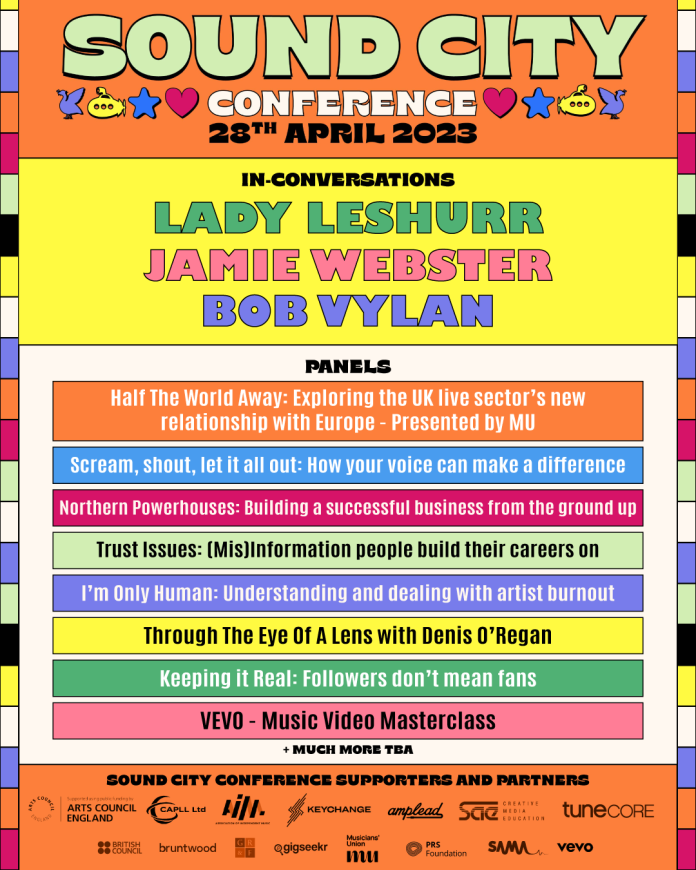 Liverpool Sound City, the UK's independent music conference and AIM UK's 'Conference in The North', today announce its first wave of speakers and panels for the upcoming 2023 conference. For over 15 years, Sound City has remained at the fore of global music conference and industry leadership, welcoming leading industry figures, emerging artists and aspiring music business professionals to Liverpool for a full-day programme of educational panels, in-conversations and networking parties. Sound City 2023 is a must-attend for music professionals, artists, entrepreneurs and aspiring creatives alike, as music lovers and industry leaders from all over the world join  in the North of England for an unrivalled day of innovative, forward-thinking industry discussion. Taking place on 28 April 2023, tickets for Sound City Conference are on sale now via  www.soundcity.uk.com.
IN-CONVERSATION SPEAKERS REVEALED
Fresh off the back of a whirlwind 2022 that saw him become only the second Liverpool artist to sell out the city's M&S Bank Arena, Jamie Webster will be joining Sound City Conference for a highly anticipated in-conversation session which will explore his rapid rise to fame and ability to stay connected to his down-to-earth, Northern roots, all whilst creating two critically acclaimed albums, collaborating with the likes of Billy Bragg and constantly championing new music in the North. As always, the Sound City Conference will welcome speakers from across the UK, Europe and beyond. Influential rap artist Lady Leshurr will be taking a look back through her incredible career so far, shedding light on how she's remained socially conscious in her lyricism and open with her sexuality while rising to the top of the music scene, claiming a British Empire Medal for her services to music as well as a MOBO Award and countless memorable TV and live appearances. Acclaimed rock/rap duo Bob Vylan will be sitting down for a special in-conversation to discuss how their decision to break free from a major label allowed them to become their true selves. They have since gone on to ​​win a MOBO Award, be awarded Kerrang's 'Best Album' for 2022 and become the first self-recorded, self-produced, self-mixed and self-released artists to achieve a top 20 UK album.
A BRAND-NEW INTERNATIONAL HUB
As the UK's lead Keychange festival, Sound City continually welcomes a diverse selection of key industry figures to the annual music conference. Sound City is excited to welcome music industry professionals and leaders from around the world to this year's conference, hosted in the heart of Liverpool. There will be a brand-new international hub at independent city centre venue Phase One, boasting a specially curated and extensive programme on a global scale, as part of the Sound City Conference. Attendees will have the opportunity to network with, and hear from a broad, diverse and talented group of music industry innovators from Norway, Canada, Republic of Ireland, Poland, Sweden, Ukraine, Indonesia, Asia and the United States of America via Sound City's partnership with the British Council.
MORE CONFERENCE UPDATES
The one-day conference programme will also feature and in-depth look behind the lens of legendary David Bowie, AC/DC and Queen photographer, Denis O'Regan, a music video masterclass from the world's leading music video network Vevo and a selection of curated panels that will cover a wide range of industry issues from the misleading data-driven world of social media, the recent rise in artists becoming overworked and the art of turning your creativity into a viable business. There'll be panellists from the likes of Record of the Day, Vevo, AIM, CMU, Amazing Radio, Scruff of the Neck and more, sharing their insights, ideas and opinions on a world stage right here in Liverpool, with many more still to be announced.
SOUND CITY CONFERENCE PANELS
Scream, shout, let it all out: How your voice can make a difference
Northern Powerhouses: Building a successful business from the ground up
Trust Issues: (Mis)Information people build their careers on
I'm Only Human: Understanding and dealing with artist burnout
Keeping it Real: Followers don't mean fans
Through The Eye Of A Lens with Denis O'Regan
Vevo – Music Video Masterclass
Half The World Away: Exploring the UK live sector's new relationship with Europe – Presented by MU
PAY IT FORWARD SUPPORTING THE NEXT GENERATION
Sound City is calling on all of its music industry peers to Pay It Forward. The industry is urged to come together to trigger positive change by supporting the vital next generation of young creatives and aspiring professionals. By adding a small additional fee when purchasing Sound City Conference tickets, businesses and industry professionals will be able to offer disadvantaged young people from the North-West the chance to attend the Sound City conference; talented young creatives with a big contribution to make who otherwise may miss out. The music industry is kept alive by industry leaders paving the way for the next wave, sharing knowledge and holding the door open for young people, regardless of their backgrounds so they can achieve their full potential, and keep the creative industries thriving.
Scotts Menswear, Tessuti, Bruntwood, AIM, Amplead, Gigseekr,  Tunecore and CAPLL as partners for Pay It Forward, early adopters of the scheme who have already pledged their support to allow for young people to attend  the Sound City Conference 2023.