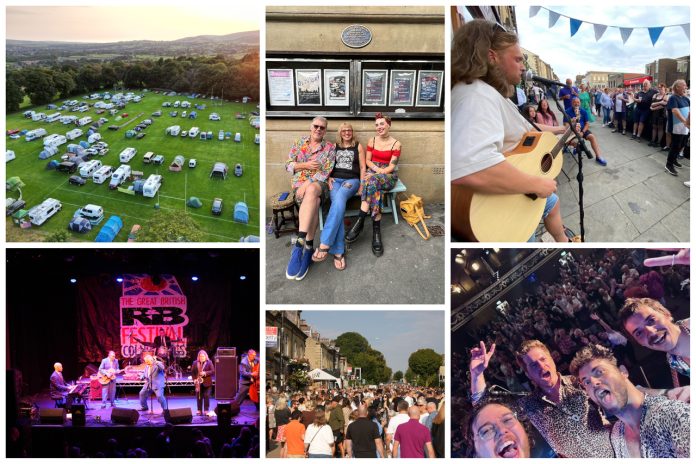 The extremely popular Great British R&B Festival in Colne has topped off a record breaking 2022 return by being named as a finalist in the prestigious 2023 UK Blues Awards.
The 2022 Great British R&B Festival is one of five festivals up for the 'UK Blues based festival of the year' award, also including the Alfold Rock & Blues Festival, Carlisle Blues/Rock Festival, Old Bush Blues Festival and Upton Blues Festival.
Winners of the awards will be determined by a public vote, which runs from Saturday 4th February 2023 to 23:59 on Sunday 19th February 2023. You can vote for The Great British R&B Festival by visiting: https://www.smartsurvey.co.uk/s/03O5SV/, while more information on the awards can be found by visiting www.ukblues.org
Nathan Cutler, Colne Town Council's Events Officer, said: "We are absolutely over the moon to be a finalist for such a major award. Everyone worked incredibly hard last year to put on a festival to remember and this nomination is for everyone who made that event so special. Thank you to everyone who attended the event and also to all our fantastic acts, and we will really appreciate all your support in the vote."
Alongside 'UK Blues based festival of the year' award, there are 11 other categories, with all the winners to be announced at an awards night on 13th April 2023 in London's prestigious Bush Hall.
Over 35,000 people flocked to Colne for the return of the festival returned in 2022, following a two year break, with record breaking ticket sales and record breaking camping sales recorded.
Plans for the 2023 Great British R&B Festival have already been announced, with Colne Town Council in association with the Colne Blues Society having announced the festival will return to Colne from Friday 25th August 2023 to Sunday 27th August 2023, with a brilliant range of live music across the town from the main stages to the Official Fringe Venues and everywhere in between.