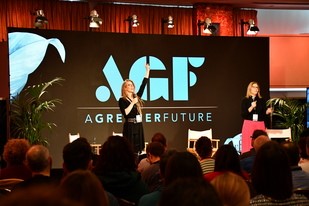 The 15th edition of the Green Events & Innovations Conference (GEI), the foremost conference for sustainable events, was a sold out success with over 350 delegates and an agenda with heavyweight speakers, innovators and industry leaders in the global live music, sports and event sector.
Taking place on 28th February at the Royal Lancaster London and supported by Ecotricity, this year's edition tackled the critical sustainability issues with a gender-balanced lineup of speakers who brought their knowledge, insight, and formidable passion to the panels and conversations.
Proceedings started with AGF CEO Claire O'Neill and Director Teresa Moore revealing that, after 17 years, the company was rebranding as A Greener Future in order to reflect the organisation's evolution beyond festivals to support the broader live events sector.
With that announcement out of the way, the conference kicked off proper with the Adapting to a New Climate Panel and Boom Festival's Artur Mendes boldly stating that "we won't work with brands or policy makers who aren't aligned with our values." While The Platinum Jubilee Pageant Case Study took a look at the sustainability actions and takeaways from organising this huge and iconic event; and Mark Stevenson (CUR8) highlighted some key facts in Carbon Offsets: The Good, The Bad and the Ugly, saying that "Any new fossil fuel exploration is a gun held to humanity's head."
Next, AGF and YOUROPE launched their highly anticipated European Green Festival Roadmap 2030 and Switching on Your Audience – Creative Climate Communication which involved a lively discussion about how organisations are engaging their audiences and fans, with Hannah Cox (betternotstop) saying, "It's taking responsibility as a human being for what you create in the world," and "If you're running a festival, that is your values being shown to the world, and you have to stand up for what you believe in."
Andy Cato (Wildfarmed/Groove Armada) and Dale Vince (Ecotricity/Forest Green Rovers F.C.) discussed what makes what we eat sustainable in Food: Back to the Future, which saw Andy stating, "Not only can we grow enough food to feed people, we can grow enough food to nourish people," and Dale adding "Our fans love the food. Since going plant-based, we sell far more food at Forest Green Rovers than we ever did before."
In the Moving on from Fossil Fuels panel the O2's Richard Godsell highlighted the need for venues to act as one on significant changes through groups such as NAA, so that leading venues aren't alienated and the whole touring circuit is improved. Helen Harland (Manchester City Council) added that "the ultimate goal being that the renewable solutions cost the same or less than generators". During the Circularity: Turning Off the Tap on New panel Julia Davies (We Have The POWER) discussed the harrowing stats about our 69% decline in wildlife populations since 1970 and the urgent need to turn off the tap on new things, moving to a sharing and reuse economy.
Elsewhere, the ACT 1.5 Exclusive Research session, supported by the hugely successful trip-hop collective Massive Attack and the Arts Council of England (ACE), saw ACT 1.5 (a research project exploring challenges set out in the Tyndall Centre for Climate Change Research's Live Music Roadmap) under discussion. The session saw Mark Donne (Writer and Producer) comment, "I firmly believe in 'piloting by behaviour.' Not just putting people on stage and giving them the t-shirt." Whilst Carol Scott (Tait) asked: "What is our legacy going to be? […] It would be pitiful if we could have made a change, but we didn't."
AGF Director Teresa Moore said "A Greener Future doesn't just rely on practitioners but also on research. Judging by the packed room for the Moving forward sustainability theory, research and practice panel the audience understood this". In this session, the Association of Event Management Educators (AEME) brought together leading event and sustainability researchers to share their findings and discuss the current and future direction of event and sustainability research.
The Quick-Fire Innovation Round presented unique and innovative sustainability ideas including: how the team at Carnicycle are making carnivals sustainable; The Green Room's approach to sustainable tools for online music; FWRD's innovative ways to improve bin use through gamification; GEIA's ideas to support forest restoration; and how Again use technology to make reusable packaging more accessible than ever before.
Then five years on since the first Greener Tour panel, John Robb headed up a discussion on what has changed, what can be changed, and the practicalities of trying to change the touring model. The panel saw Jamal Chalabi (Backlash Productions / AGF) stating frankly, "Everyone thinks it's about the artist leading it. The artist is really good at messaging, but it's the industry that needs to get our shit together."
Finally, to conclude a jam-packed day of inspiring insight and conversation, Brian Eno and Jacob Collier explored 'music as a social synchroniser' in the GEI keynote. An enlightening convo that saw Brian comment that "The arts are where we develop our instinct and our conscience," and Jacob state that "things become possible as you start doing them."