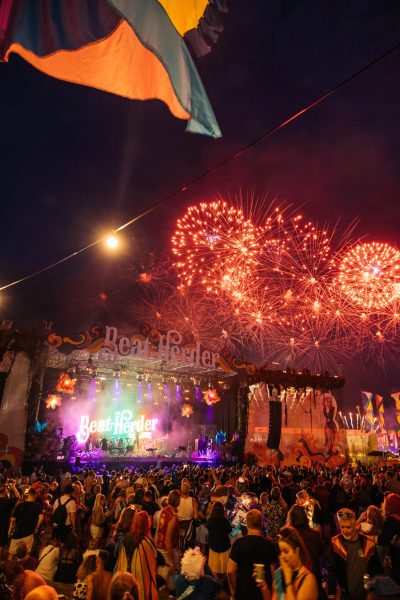 The PR describes Beat-Herder as the weirdest, wildest and most joyous party in the UK Festival Calendar. We've been, we don't disagree, DJ Magazine have it in their top 100 events globally and the Mirror and the Guardian love it.
From its genesis as a free party in 1998, to its new 4 day format (for those that get their hands on the limited 4 day tickets), Beat-Herder maintains its reputation as one of the friendliest festivals can be attributed to its loyal followers, friends, and families, who create new memories in a bold and barmy atmosphere each summer.
Initial, high profile announcements so far at the main Beat-Herder stage are Pendulum, Alison Goldfrapp and Confidence Man. That said, the real stars of the show are the carefully crafted areas such as Toil Trees, the spiritual heart of Beat-Herder, The Fortress, the refuge for hardcore revellers and The Ring, a sacred arena where all genres converge in a melting pot of past, present and future. A 100-foot diameter earth mound accessed via a giant Stonehenge-style entrance is the perfect venue to capture the original stadium house innovators and stage curators, Utah Saints.
Music is just part of the experience at Beat-Herder. Entirely handmade from scratch, the stages stand out as something truly bespoke in the increasingly cookie-cutter festival landscape. That attention to detail creates an immersive world full of beguiling and intriguing creative concepts, winning 'Unique Festival Arena' at the 2019 AIF Festival Awards and the 'Extra Festival Award' at the UK Festival Awards for 'attention to detail & creating unforgettable festival experiences'. Where else would challenge you to find the hidden, heated swimming pool (which won the 'Unique Festival Feature' award at the 2019 Skiddle Awards) or invite you to dance to drum and bass in a chapel? Unsurprisingly, The Guardian also named it one of the Best Festivals for its Lively Atmosphere in 2022.
If the beats and barminess get a little too much, guests can slow the pace by lounging by the huge fire in the stone circle, gazing at the woodland waterfall with a coffee, or partaking in some nostalgic entertainment at the site's very own working men's club. It's unsurprising that Beat-Herder is quoted as a 'favourite festival' by so many.