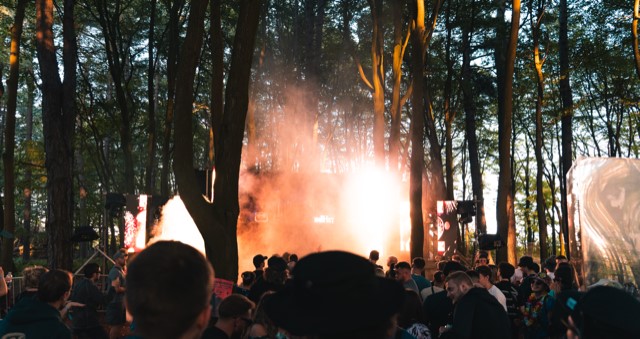 Debuting in 2021  One In The Woods has established its position as a cultural festival that unites the sounds and scenes of Liverpool and Manchester, hosted by The One Promotions, an experienced and accomplished group of friends who promoted many events across the region. 2023 will expand from 2 to 3 days, see an additional arena and what the organisers are claiming to be the most complete and comprehensive line up of techno and drum & bass talents to date.
The community minded and meticulously crafted mouthwatering mix of house, techno and drum & bass heavyweights descends on  Orrell Hill Woods from July 28 – 30. This year sees the festival  evolve from the two day event of previous years into bespoke three day camping festival offering its largest ever line up with Interplanetary Criminal, DJ Seinfield, Joy Orbison, Special Request, Call Super, Objekt, FJAAK, Sam Paganini, Len Faki, Kobosil, Paula Temple, DJ Marky, LTJ Bukem, Goldie, A.M.C and many more. Tickets will sell out so get yours now at https://www.oneinthewoods.com/.
The escapist location is deep in lush free woodland in with easy transport links from both Liverpool and Manchester.
This year's bumper lineup comes from the leading edge of the electronic underground with emotive house craftsman and Ninja Tune artist DJ Seinfield joined by the ever innovative multi-genre specialist Joy Orbison, acid, jungle and techno selector Special Request, the impossibly dexterous DJs that are Call Super and Objekt along with Interplanetary Criminal, plus serious techno from FJAAK, Sam Paganini, Berghain regulars Len Faki and Kobosil, the dark dance floor destroyer Paula Temple, plus drum & bass royalty DJ Marky, LTJ Bukem, Goldie, A.M.C and more.